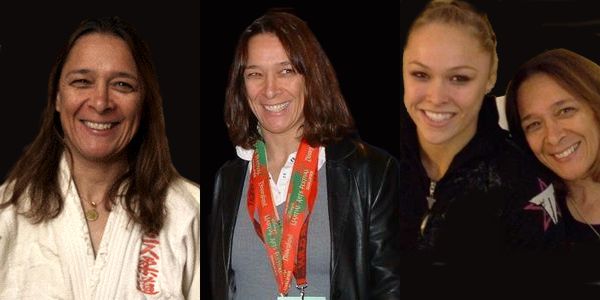 Judoka AnnMaria Rousey DeMars, mother of Ronda Rousey, was born August 15, 1958, at Scott Air Force Base in Illinois. She grew up in the small community of Alton, Illinois and began her judo career at the age of 12 at a local YMCA.
DeMars won her division at the USJA Junior Nationals at the age of 16 her first major competition. The same year, she entered college at Washington University as a business major. At the age of 18, as a college junior, Ann Maria was an exchange student at Waseda University in Tokyo, Japan. While there, she trained under Sensei Osawa.
She graduated from college with a degree in business in 1978. She also won the US Senior Nationals, US Collegiate Nationals and the US Open. In the absence of women's judo world championships, she quit competitive judo and studied for an MBA at the University of Minnesota.
AnnMaria Rousey DeMars earned her MBA in 1980. She missed the first women's world championships while in grad school, but in 1981 won bronze in the British Open and Tournoi d'Orleans. In 1982, she was ranked #1 in the USJI rankings and won the US Open. However, she did not compete in the second women's world championships due to having a baby that year.
AnnMaria Rousey DeMars enjoyed more success in 1983, including the Pan American Games and US Senior Nationals, and in 1984, winning the Austrian Open, Canada Cup (now known as the "Rendezvous"), and the US Senior Nationals. She came out of retirement to win the 1984 World Judo Championships, becoming the first person representing the United States to win a World Judo Championships (her name at the time was Ann-Maria Burns).
Following her judo successes, DeMars married a second time and had more children. Her third child, Ronda Rousey has also been successful in judo.
AnnMaria Rousey DeMars pursued further study, including an MA and PhD in educational psychology from the University of California, Riverside. She also taught college for several years in North Dakota.
AnnMaria Rousey DeMars' husband died in 1995 due to complications relating to Bernard-Soulier syndrome following a sledding accident. She remarried in 1997 and moved to Southern California where she currently resides. She had a fourth child in 1998.
In 2006, AnnMaria Rousey DeMarswas elected Vice President of the USJA, ahead of Peter Contardo. She remarked: "I think it is important for women to not only be in follower positions as supporters and students, but also in leadership positions."