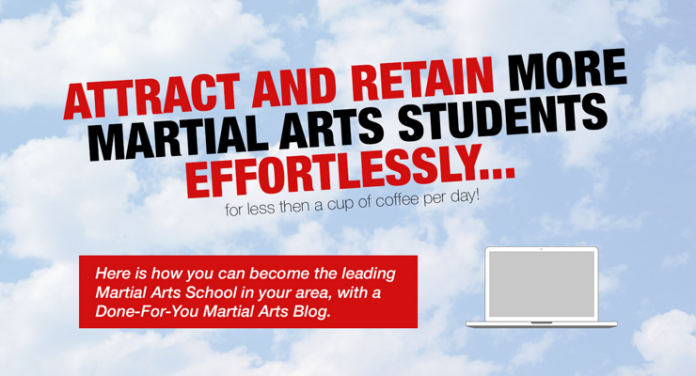 Advertisement
Research shows that consumers are turning to blogs, more than anything else, to make their buying decisions. Blogs can also help you Attract, Engage, and Retain Students
That's because consumers of all kinds – and especially those people sifting through all the choices in the incredibly competitive fitness industry – now prefer to do their own research before making an investment like joining a martial arts school.
And make no mistake about it – you're not just competing against the dojo down the street. You're also competing against the local cross fit gyms and the $10 per month memberships at Planet Fitness.
Is your website showcasing how martial arts can offer so much more, like inspiration, motivation, discipline, integrity, and perseverance? Are you doing everything you can to ensure prospective members have enough information to make joining your school a no-brainer?
Or is a skimpy (or non-existent) blog costing you and your school tens of thousands of dollars a year in lost revenues?
Let's look at the data gathered by marketing organizations like HubSpot.
Here are some compelling statistics that martial arts school owners can't afford to ignore:
61% of U.S. online consumers have made a purchase based on recommendations from a blog. (HubSpot)
 Companies that blog 15 or more times per month get 5 TIMES more traffic than companies that don't blog. (HubSpot)
Companies with over 200 blog articles have more than 5 TIMES the leads than those with 10 or fewer. (HubSpot)
Seventy percent of consumers say content marketing makes them feel closer to the company that produced the content (Content Marketing Institute)
Content marketing can convert 30 percent more organic traffic into high quality sales leads (MarketingSherpa)
Content marketing costs 62 percent less than traditional marketing and generates three times as many leads (Demand Metric)
Bottom line: Blogs aren't just important for small business owners – they're critical.
That's because …
Blogs entertain, inspire, and inform – and that's the kind of relationship building that helps people choose your school over the competition.
Blogs connect your existing and prospective members to your dojo – and this builds loyalty and trust that can spell the difference between someone who sticks around for a few months and someone who commits to your dojo for years.
Blogs humanize your school – and people want to do business with other people, NOT a faceless company.
If you want to attract, engage and retain more members for your dojo, your martial arts website needs a thriving blog. End of story.
Blogs work – there's just one problem: They're not easy!
Business blogs are a major challenge because they're hard for businesses to keep updated—and to really nail.
You've already got enough on your plate trying to run your dojo, do you honestly have the time and dedication to write 2 to 3 (at least) blog posts every week? If not, hire a professional, just like your students hire you for your expertise. If you teach self-defense, you must believe in it right? I bet you wish that everyone would come to your school to learn some self-defense techniques. It's not something they should try to teach themselves, or worse, wait until they are accosted by a thug and then just "wing it."
People are starving for entertainment. It's human nature and we can't fight it. So wouldn't you want people in your community to find their entertainment on your dojo's website, where they're bound to stumble across your monthly sign-up specials, your martial arts class descriptions, and your "Contact Us" form?
Of course you do. A consistent and entertaining blog has been proven to bring people back to a business' website repeatedly. It attracts new eyeballs to the website, and has the power to build an emotional connection with the reader. That's how you win hearts and minds. That's growth.
But you have no idea how to write human-interest stories that compel and attract? No problem. I can help you. I'll give you a free consult and a free trial to prove to you that we can get more people visiting your website.
Call Brian Carmody at 774-232-0569
Martial Arts Business Podcast With Brian Carmody
How To Use Content Marketing To Get More Students and Keep The Students You Have!
Testimonials
"We have been a client for over 6 months and our website traffic has skyrocketed. The blog posts are bringing more people to our website than ever before. Community awareness of our dojo has grown, and our existing students are engaged in our motivational messages even when they are not attending class. We've never had this kind of reach before."
Master Pedro Xavier, Owner, Randolph Martial Arts and Boston Tae Kwon Do, Randolph, MA

"It's been a simple formula for success. Each time Brian uploads a blog post, we share it on Facebook and our students and their friends flock to our website. We see the traffic spike. It's great because the blog is one of the few things we have that give people a reason to keep going back to our web page where they see our class offerings and contact forms."
Master Ernie Thivierge, Owner, America's Best Defense, Raynham, MA

"Each week I look forward to the new blog posts that Brian writes for The Training Edge. They aren't dry announcements about "school news and events." Instead they are entertaining; sometimes they are funny, sometimes they are inspirational and motivational, but in every case they relate to the martial arts lifestyle of continuous self-improvement. I have shared many of the blog posts to my friends on social media."
Jeff Smith, student, The Training Edge, Buffalo, NY Area