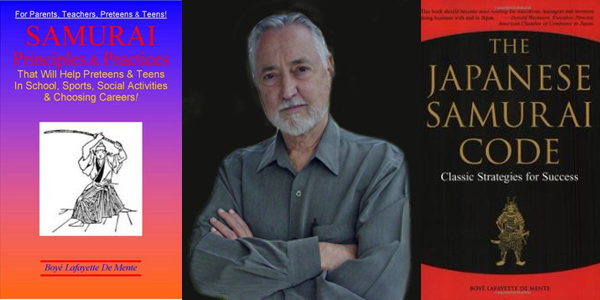 An ex-"very low-level spook,"; journalist, editor, adventurer, lecturer, and the author of more than 60 books, Boyé Lafayette De Mente was born in southern Missouri in 1928, moved to St. Louis in 1940, joined the U.S. Navy in 1946, was trained in cryptography and served in Communications Supplementary Activities ("spy stuff").
In 1948 De Mente switched from Navy intelligence to the Army Security Agency (ASA), and was assigned to Japan during the heyday of the American occupation of that country. In 1950 he went from intelligence work to being the editor of the ASA Star, a weekly newspaper published in Tokyo for his ASA unit.
Returning to the U.S. in 1952 De Mente attended The American Institute for Foreign Trade (now the famous Thunderbird Graduate School of International Management). He returned to Tokyo in 1953, and worked for a succession of newspapers and magazines, including Today's Japan and The Japan Times. He also attended Jochi University at night, earning a degree in Japanese and economics.
In May 1957, De Mente joined Australian adventurer Ben Carlin on an amphibious jeep ("Not a Duck! Which is four times bigger than a jeep!";) and made a 4-month crossing of the North Pacific Ocean, arriving in Anchorage. Alaska on September 4–a remarkable voyage he recounted in a book appropriately called Once A Fool–From Japan to Alaska by Amphibious Jeep. This feat was widely reported in the world press, and put Carlin and De Mente in the Guinness Book of World Records, and in CAR and DRIVER'S Amazing Stories.
After recuperating from the jeep trip, De Mente returned to Japan, where he became editor of The Importer magazine, the leading English language trade journal in Asia, featuring Asian products for world markets (founded by another Thunderbird graduate, Ray Woodside). For the next 4 years, De Mente covered the export trade in Japan, Korea, Taiwan, Hong Kong, Thailand, Malaysia, Singapore and the Philippines.
De Mente wrote his first book, Japanese Etiquette & Ethics in Business, in 1959. A pioneer work in the field, it became a bestseller ("everywhere except in the U.S., which had not yet discovered Japan!";). This book was soon followed by How to Do Business With the Japanese, and Bachelor's Japan (the latter becoming a world-wide bestseller for more than 20 years).
De Mente retired from salaried employment in 1962 and began turning out from one to two books a year, including Bachelor's Hawaii, Bachelor's Mexico, Women of the Orient–Intimate Profiles of the World's most Feminine Women, and Face-Reading for Fun & Profit.
The latter book came about as a result of a 1955 meeting and interview with Japan's most famous face-reader–a man who had been retained by the Japanese military in the late 1930s and early 1940s to read the faces of new recruits and suggest what units they should be assigned to. De Mente became a student of face-reading, studying under both Japanese and Chinese masters.
Following publication of Face-Reading for Fun & Profit, De Mente went on the lecture circuit as a face-reader, including one memorable appearance on the nationally broadcast What's My Line television show in New York.  He has continued to make use of his face-reading skills in both his business and private life. One of the most interesting things about face reading, he adds, is that over half of the readings apply to the individual's sexual nature.
In addition to continuing his "etiquette and ethics"; series of books on Japan, China, Korea and Mexico, De Mente also authored a major "code word"; series of books on the same countries (Japan's Business Code Words, Japan's Cultural Code Words, China's Cultural Code Words, etc.)
Each of these books consists of essays on the historical and present-day cultural nuances and uses of from 200 to 350 key words ("words that are pregnant with cultural meaning";) in each of the languages involved.   The books are now widely used in universities and other educational organizations around the world.
De Mente's most recent books include The Cultural Code Words of the Hopi People, The Cultural Code Words of the Navajo People, and Samurai Principles & Practices That Will Help Preteens & Teens in School, Sports, Social Activities & Choosing Careers.
His primary publishers are McGraw-Hill and the Periplus-Berkeley-Tuttle group of companies.
Editors Note: Boye Lafayette De Mente passed away on May 12, 2017. He was 88 years old.
By Jack Culebra
Information about Boyé Lafayette De Mente's books for childen can be found on Martial Arts Books For Children 2007-2017
About Boyé Lafayette De Mente's book Samurai Principles and Practices