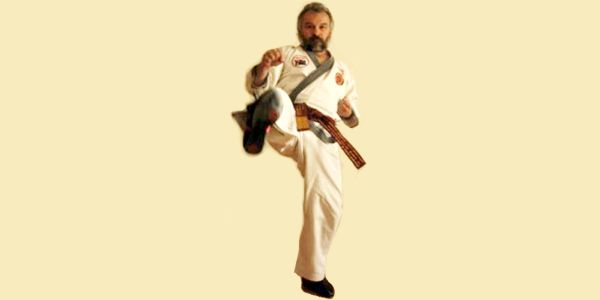 Grandmaster Christopher Nasilowski was born in the city of Pruskoteka in Poland, in the year 1951.
He first started to train in the martial arts, in 1967, and it was in the city of Szcztno where he first commenced his study of Judo, which he did for a couple of years, and was there that he learned how to unbalance and throw an opponent to the ground. This is also where he got his first taste of basic grappling techniques on the ground as well.
GM Chris tried some Shotokan Karate and Boxing, but his real fascination was with the Korean art of Taekwondo, which he began learning when he moved to Australia from Poland.
He began training at the Rhee Taekwondo Academy in Adelaide of South Australia, and that was in 1972 when he was just a young man of 21 years of age.
This was the era when earning a black belt meant that you had to perform the difficult breaking techniques such as breaking a solid brick, breaking three 1 inch wooden boards with the ball of the foot in a turning kick technique, and doing a flying side kick over 8 men crouching down on to the ground, and breaking five 1 inch boards being held by three strong assistants at the other end!
He stayed at the Rhee Taekwondo Academy for twelve years, and in this time he achieved the rank of 2nd Degree Black Belt, and he also earned the title of assistant instructor at that Dojang.
In 1984 Grandmaster Christopher Nasilowski felt that it was time for him to open up his own martial arts school, and to also try other styles of martial arts as well, so he went on to establish the Millenium School of Martial Arts International.
In 1988, Grandmaster Christopher Nasilowski met Grand Master Cacoy Canete through his friend and long time training partner, Master Vince Palumbo, and GM Chris began training in the Filipino Martial Arts, which helped to broaden his horizon as a quality martial arts instructor in South Australia.
Since the beginning of his martial arts training back in 1967, GM Chris has achieved the black belt rankings in Taekwondo, Tang Soo Do Hapkido, Eskrima and Combat Judo/Jujitsu.
He was also bestowed the rank status of Chairman to the Kalaki Arcanis Arnis World Association, because the founder of the system, GM Sioux Glaryaga became very ill and was unable to continue to teach his many students around the globe.
In 1996, Master Vince Palumbo traveled to Poland, to give seminars and teach more than 500 students the basics of Filipino stickfighting techniques. This was the first time that many of the martial artists in Poland, had ever seen the Filipino Martial Art of Stick and Knife Fighting.
Grandmaster Christopher Nasilowski went to Poland in 1999 to establish the Polish Kalaki Arcanis Arnis Association and was the organizations founder and original chairman and he has many students practicing his style in the capital of Poland, Warsaw.
Grandmaster Christopher Nasilowski has trained and taught his form of martial arts in Poland, Slovakia, Germany, Philippines, Malaysia, USA, Great Britain, Czech Republic, and here in his home country of Australia.
In 1992, Grandmaster Christopher Nasilowski entered the WEKAF World Invitational Full Contact Stickfighting Titles which were held in Cebu City of the Philippines, and he won the over 40 y.o. Division in the under 75kg category.
GM Christopher Nasilowski has established International branch clubs and many affiliates for his own Millenium School of Martial Arts, in Poland and Slovakia!
Now he concentrates on teaching the arts of Korean Karate, Filipino Stickfighting, Jujitsu, Hapkido, Kickboxing/Boxing and Grappling to all of his many students around the Globe.
He has trained with GM Chong Chul Rhee, GM Choon Bong Lee, GM Park Jong Man, and his has met and trained with Tang Soo Do founder, GM Hwang Kee, plus he has trained with GM Cacoy Canete, GM Sioux Glaryaga, GM Brian Dossett, GM Bill Vaughan, and O'Sensei Phil Porter.
Grandmaster Christopher Nasilowski is considered some what of an icon in the city of Adelaide in South Australia, and he has amazed the many crowds of spectators at the martial arts festivals, kickboxing shows and martial arts tournaments, with his so very spectacular brick, tile and board breaking techniques!
Grandmaster Christopher is a real character in Adelaide, he always tells a good yarn about his many incredible and sometimes amazing life experiences that he has had in his 55 years on the planet.
We all salute and congratulate this wonderful man on his fine efforts and many contributions to the the martial arts network both here in Australia and abroad!