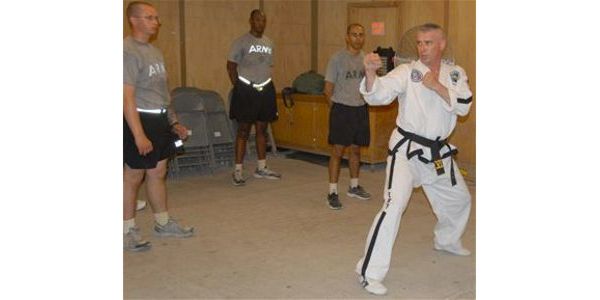 6/24/2011 – KANDAHAR AIRFIELD, Afghanistan — Tae kwon do students, most with sweat seeping through their shirts, stood in rows and bowed to the instructor as the class ended on June 21, 2011 at Kandahar Airfield.
The students ranged from Soldiers to foreign military members and the instructor was Tech. Sgt. Michael Munyon, from the 466th Air Expeditionary Squadron flight line security.
He teaches a diversity of students, but all recognize the traditional martial arts robe, the do-boke.
Although Airmen at KAF exercise in Air Force physical training uniforms, Sergeant Munyon was authorized to wear the robe because it distinguished him as an instructor.
Army Sergeant Edwin Rodriguez from the 7th Sustainment Brigade said he hadn't even realized Sergeant Munyon was in the Air Force until he saw him in uniform.
"I didn't even want to know his rank. I just saw him as an instructor," said Rodriguez.
At his home station, Offutt Air Force Base, Nebraska, he also instructs defensive tactics.
Each of his deployments, Sergeant Munyon seeks out an opportunity to teach. While certified as an international instructor with a sixth-degree black belt in tae kwon do, he has taught classes in Kuwait, Saudi Arabia, Iraq, South Korea and now Afghanistan, among others. The benefit of deploying to those locations is that he can share the art of tae kwon do with others, he said.
"I've taught Romanians, Australians, the French," he said. "Some are still friends of mine."
Sergeant Munyon's flight line security supervisor, a Bulgarian, came to the class as well.
It's not about rank, branch or even country. He welcomes all students, but he works to teach the art of tae kwon do as an approach to combat from which all warriors can benefit.
"The Air Force uses big words like 'warrior ethos,' but it's about discipline and confidence," said Munyon.
Students spar. They may land a punch or kick, but may then bow when the bout is over. While running, weightlifting and working out at the gym may be good exercise, Munyon wants his students to understand the art of combat. Shaking hands before a fight is comparable to traditional military courtesies, said Munyon.
The hour long class is also a physically challenging workout.
"It's cardio, some flexibility," said Rodriguez. "It's a challenge outside Army fitness."
Even though the instructor is a member of the Air Force, he teaches his class universal skills.