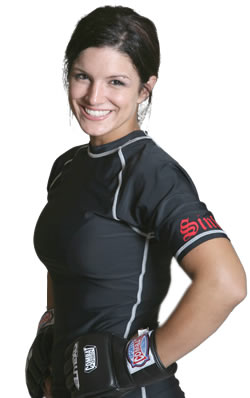 This Saturday, August 15th, 2009, Gina Carano will make history when she faces Cristiane "Cyborg" Santos in Strikeforce's unprecedented CARANO VS. CYBORG, the first ever major female MMA main card in America. The fight will be held at San Jose's HP Pavilion where the women will battle for the first Strikeforce 145-pound Female Championship. The fight will be broadcast live on Showtime, further establishing Strikeforce as a major contender amongst MMA leagues. A few weeks prior to CARANO VS. CYBORG, Strikeforce also announced signing Fedor "The Last Emperor" Emelianenko, one of the greatest MMA fighters in the cage today. These two bold moves by the burgeoning league apparently posed enough of a threat to draw dismissive comments from UFC mogul Dana White. To counterpunch, White is re-broadcasting highlights of UFC 100, one of the biggest pay-per-view events in history, in direct competition with CARANO VS. CYBORG. White stated previously that women in MMA would be a "PR nightmare," but with the buzz surrounding CARANO VS. CYBORG, it seems more like a promoter's dream come true.
Standing in the center of this maelstrom are Carano and Santos. Both women are at the top of their game and eager to take on the challenge. Both boast records of seven straight wins. Santos only lost once in her first professional fight in Brazil over four years ago. Carano has never lost. What's more, Carano's charisma has put her in the forefront of women's MMA. A former American Gladiator, Carano was ranked #5 on Yahoo's "Top Ten Influential Women of 2008" and #16 in MAXIM's Hot 100 list.
The MAXIM factor adds another unprecedented element to this fight. Beyond being an extraordinarily skilled fighter, Gina Carano is smoking hot. Her natural sex appeal has brought her under the spotlight like no other fighter in history. The story of her having to strip naked to make weight for her 2008 fight against Kelly Kobold made for a titillating press extravaganza that could never be equaled in men's MMA. What's more, Carano is almost bashful in interviews, which only adds to her allure. She speaks humbly from the heart, a refreshing break from the boisterous machismo of most fighters and the blatant sexploitation of ring girls. There's a down-to-earth authenticity to Carano. Cameras just devour her twinkling eyes and ready smile, making her as charming as she is disarming. Although Santos is a magnificent fighter, Carano's sexiness has the male-dominated MMA fan base and the popular media under her thumb. If she wins, it could catapult her and women's MMA to a whole new level.
All that being said, I have a confession to make. This interview has very little to do with kung fu. As we've stated many times, KungFuMagazine.com is exclusively devoted to Chinese martial arts. However, the fastest growing trend in our industry today is MMA. Sometimes, we have to make concessions to what's popular in order to stay viable. MMA is becoming a style unto itself. While it might be heavily influenced by ring sports like Muay Thai and Brazilian Jiu-jitsu, only a few Chinese martial artists are active in MMA today. Gina isn't one of them.
Truth be told, this is really about me getting to interview Gina Carano. For what it's worth, I did ask her about kung fu. What's more, her first fight for Strikeforce was with Elaina Maxwell, who is a member of the U.S.A. Sanshou Team and a protégé of Cung Le. That was in 2006. So there's some connection, though admittedly dubious at best. I hope those staunch Chinese-only traditionalists amongst our readers will forgive me this digression. If not, what can I say? It was totally worth it.
What's it like being the first female to be on a major MMA main card?
Gina: It's a blessing. I don't know how I've got so many good opportunities in my life, but it's just been a blessing. My journey in this whole fight world has just been amazing. It's definitely changed my life, so I've just been blessed. So I'm just going to take this opportunity and represent.
Do you feel any extra pressure for this fight?
Gina: No. There's been a different kind of pressure on each fight. First it was on Showtime. Then it was on CBS. Now it's a headliner, so it's just all kinds of different pressures. I'll definitely say this was by far one of the best females I have probably ever faced. It's going to be a really tough fight. I just know that whoever's holding that belt at the end of this is going to represent it well.
Do you feel the stress of having to carry the sport for women at this point?
Gina: I don't have to carry the sport. I've been given the opportunity to represent it. I think I've done the best I could do… This sport changes people's lives. It brings us all together in a way. It'll carry itself.
How do you see Cyborg's strengths and weaknesses?
Gina: I think she's just a great fighter all around. I mean she's super aggressive. It's just really an honor to fight her. I don't think you can go really wrong fighting that kind of opponent. You step in there with a good opponent and there's instant respect. She's a good all around fighter and I have a lot of respect for her. So I just look forward to seeing how we pair up.
What have you been focusing on in your training for Cyborg?
Gina: My sparring partners come at me the way that she would come at me in a fight or how we think she might. But I train for realizing that I haven't – I don't feel like I've reached my potential – and so I train knowing she hasn't reached hers either. So I envision her as a really really great fighter. It's going to be tough. You know, I'm not going to lie, but I'm going to try to make it as easy as possible.
Any predictions?
Gina: I predict a really tough fight (laughs). I don't really make predictions.
How does going from three-minute to five-minute rounds affect the fight for you?
Gina: Yeah, that's going to be difficult. Sixteen more minutes of fighting. That's a lot more minutes. I feel like it gives you some mentality. It gave me some mentality to train for it. And once I started training five-minute rounds, it felt really good. But at the beginning it was like "Oh s–, what did we ask for?" (laughs) But now I'm happy with it, you know? I think that could be the outcome – that could also win or lose the fight… A quick knockout or submission would be beautiful in the fight. I've been doing visualizations and everything, so we'll see. I don't know if this fight is going to go the distance.
Last time you were here in San Jose and they showed your face on the screen, the crowd went wild. San Jose has become a Mecca for MMA. What's it like coming to San Jose for you?
Gina: I've been here when I fought a while ago. I was fighting a local girl who now is one of the girls that beats me up everyday for training – Elaina Maxwell. And when we were fighting, all the crowd was on her side. I felt that. And I was like "Ok, I'm fighting someone in their hometown." But slowly, throughout the fight, all of a sudden people started chanting my name and they started cheering for me. I just really love that about fighting in general. You see someone out there and no matter if they're black, white, Caucasian, Asian, you just see them as a fighter and you kind of get drawn to them. No matter if I was a hometown girl or not, San Jose embraced me. That was like one of my best memories – to go to somebody's hometown and have them cheering for me. That was great. So I love this town. It's beautiful and I think this is a great place to have awesome fights like they've been having. I love it.
How's it been being part of Strikeforce?
Gina: I really respect Strikeforce. They know that people want to see good fights and they're not afraid to put them on. They're making moves in the sport and I really feel honored to be a part of it. And I respect them and I'm glad that they know what they're doing – putting on great shows and great matches. They're professional and they've really been great. They really did a lot to get this fight going and promote it. Strikeforce – it's an honor to be a part of them… It's nice that Strikeforce is not going to be afraid to put on more female fights at different weight classes. It just seems like a better fit. I mean, would it have been nice to fight on UFC? Things happen for a reason, so I'm with Strikeforce and I'm happy to be here. The way they're growing, maybe it'll turn into something like UFC.
Gina Carano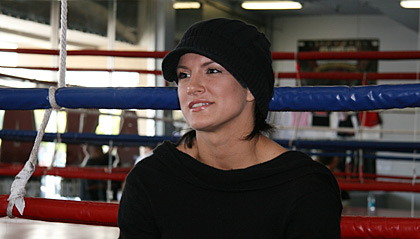 You were named one of the most influential women by Yahoo – even more influential than Michelle Obama. That's a unique position for a fighter. How do you feel about that?
Gina: I feel like it's more a need for somebody to be real with them – instead of blowing smoke up everybody's ass about who they are. I've been very honest with the media and all the people around me. I never really let the attention get to me. I think that that's what influenced people to fight for me and follow me. And on top of me being skilled at something – I think that was just kind of the impression for people to do something like that. That's my interpretation of it. It was an honor.
You think there will be any disadvantages coming into the fight like weight or anything?
Gina: No. I think Cyborg actually said it best – it's going to be the person that makes the least amount of mistakes. It just might be the person who gets caught first. We're both the same size. Her muscles might look bigger, but I'm strong. (laughs) I am strong and I feel comfortable in the ring. I know I smile and joke around now, but when it comes fight time, I take it really seriously. I know how to get down.
Is cutting weight a challenge?
Gina: No, I think it's good. I'm not going to say it's not a problem but I'm more ahead now than I've ever been. I'm more in shape than I've ever been. Of course, the battle is always getting through that weigh-in. I think my body like knows all of a sudden that it's time to drop a cup of water weight and starts freaking out on me. But it's going to be good. I think that me and Cyborg will both come in on Friday and it'll be a nice little pleasant weigh-in.
Having a spread in MAXIM is really unique for an MMA fighter.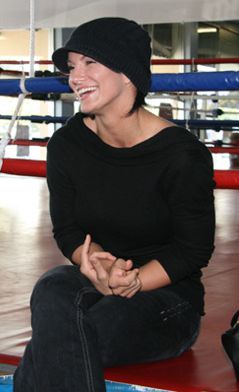 Gina: Yeah (laughs).
Do you think that gives you any advantage, like with the crowd?
Gina: No, I don't think so. If anything, it'll probably make Cyborg want to punch me harder. (laughs) No, but I explored that kind of sexy side, which I've never really done before. And I'm glad I did it because it was an experience, but I still want to be very cautious of that though. I'm a very shy person and I don't really like to expose my body too much. It was a good opportunity, and I like that I did it, but I don't know what else I'm going to do. No PLAYBOY, none of that. (laughs)
Gina CaranoI've got to ask you a kung fu question because that's the basis of our magazine.
Gina: (laughs) OK.
Everyone feels you have the charisma to go into movies. If you did that, do you think you'd ever train in something more showy like kung fu?
Gina: Absolutely. I would love to train in kung fu. You know, kung fu, I'm all about training and learning. And especially if it was to just learn – I'd love to actually. You know what really is a beautiful thing I've – it's not anything related – well, I don't know if people use it in fighting, is capoeira. That's beautiful. I think if I had to do those flips and that dance – that would be awesome.
If you ever start training kung fu, just let us know. I'll have you on our cover so fast, it'll make your head spin harder than Cyborg's punch.
Gina: (laughs)
Written by Gene Ching for KUNGFUMAGAZINE.COM
© COPYRIGHT KUNGFUMAGAZINE.COM, ALL RIGHTS RESERVED.
All other uses contact us at gene@kungfumagazine.com