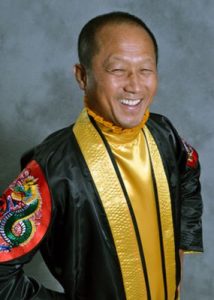 In Ho Lee was born in 1955 in Seoul City, Korea, two years after the end of the Korean War. He is the younger brother of Songahm Taekwondo founder Eternal Grand Master H.U. Lee.
In Ho Lee began to study and practice Taekwondo as a boy. After a year of military service In Ho Lee joined his brother, Haeng Ung Lee's Songahm Taekwondo school, in the United States in 1976.
Grand Master In Ho Lee has dedicated his life to seeing the dream and vision of ATA Martial Arts grow and prosper. Most known for his lightning fast jump round kick, Grand Master Lee was once a member of "The Flying Lee Brothers" which eventually brought him to Little Rock, Arkansas, home of the ATA international headquarters.
Grand Master In Ho Lee has been a key member of the ATA International leadership team and the organization's Masters' and Founders' Councils for more than 25 years and he became the third Standing Grand Master of Songahm Taekwondo, the American Taekwondo Association from 2011 to 2018 until Grand Master G.K. Lee took over as the 4th Presiding Grandmaster. In Ho Lee was inaugurated as Standing Grand Master during the 2011 Songahm Taekwondo World Championships' Inaugural Ceremony on Saturday, June 25, 2011, in North Little Rock, Arkansas.
Grand Master In Ho Lee has spent his time traveling the world to grow the ATA while staying true to the original concepts and philosophies upon which it was founded.
Contact current Presiding Grand Master G.K. Lee and the ATA International organization through their listing on the Martial Arts Schools & Businesses Directory or FindADojo.com by clicking on the image on the left.