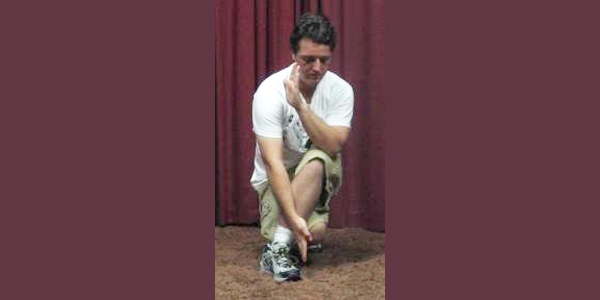 Jay Shrewsbury was born in 1969, Jay's earliest memories of the martial arts begin around the age of six. Jay's father studied Moo Duk Kwan Tang Soo Do from Lyn Jackson in Lorain, Ohio, and a neighbor, Jack Decarlo, studied some form of kung fu. The two men worked out in the basement or driveway and there Jay got his first taste of the martial arts.
As a young boy Bruce Lee heavily influenced Jay and his interests turned to Chinese martial arts. Through his teen years he would read numerous books on philosophies, religions and martial arts. In 1981, at the age of twelve, Jay began to study Jow Ga gung fu, animal boxing, chi gung, and Ying Jow Pai under Sifu Jack Long of Lorain, Ohio. Jay never obtained any official rank, but this would set the stage for his love of animal boxing. In 1984 he began studying western wrestling and boxing with Randy Clemens of Canton, Ohio. In 1986 Jay's interests turned to Ninjitsu and began studying Nien Ji Ssu Chu Chuan, with Shidoshi James Kim of Florida City, Florida. Jay would enjoy and pursued Ninjitsu for years to come.
In 1987 Jay began his study Tracy's Kenpo, Burmese Bando boxing, and Kobakan Judo with sensei Ken Ortner of Vermilion, Ohio. Jay received his first black belt in 1989, and earned a second-degree black belt in 1990, in Tracy's Kenpo. In 1988 he also began studying Okinawa Kioshi Kempo, Judo, and Budo Kai Tai Jujitsu under Shejan Herman Gonzalez of Lorain, Ohio. In 1992 Jay received a 3rd Dan under Master Gonzalez. In 1993 Jay began studying Shorin Ryu, Toygar, Yang Tai Chi, Chi Gung, Iron Shirt, Sun Xing Yi, and Sun Ba Gua under Shejan Will Duncan of Vermilion, Ohio. In 1994 Jay received his 3rd degree black belt in Chinese Martial Arts under Shejan Duncan, and a 1st Dan in Shorin Ryu. From 1994-98 Jay studied Sun Xing Yi, Sun Ba Gua, Yang Tai Chi, and Cheng Ba Gua under Hu Wei-yue of the Cleveland Martial Arts Association in Cleveland, Ohio.
Over the years Jay has studied and practiced with many other martial artists from numerous styles. He has also studied weapons including the nunchauku, 3 section staff, wakazashi, sai, tonfa, dagger, broadsword, staff, spear, blowgun, and shuriken.
In 1989 Jay Shrewsbury entered his first tournament as a black belt and in a two year stretch Jay entered 20 tournaments placing 25 times in kumite, weapon forms, karate forms, and kung fu forms. He would also have numerous students who placed in a variety of divisions, sometimes competing against each other for 1st place. After a four-year layoff Jay returned to the tournament seen and at the 1996 Great Lakes Championships he took 1st place in the internal division. That same year Jay competed in the International Kuo Shu Championships, where over 20 countries were represented. Jay received the gold medal in Bagua, and Xing Yi, and a silver medal in Kenpo. At the 1996 International Kuo Shu Championships Jay took the gold in Bagua, a silver in Xing Yi, a bronze in internal weapons, (using a Pa Kua style dagger form he developed), and a bronze in kenpo. In 1997 Jay took another 1st place at the Han Wei International Martial Arts Championships internal forms division using a Pakua and Xing Yi combination set he developed. Once again, after an eight year layoff, Jay came back to compete and took 1st place in the 2004 advanced black belt division of the USA Karate Championships using tiger style boxing.
Jay Shrewsbury taught for the Tracy's Kenpo Karate studio, in Vermilion, Ohio from 1987-1990, the Okinawa Karate and Judo Club in Lorain, Ohio from 1989-1992, The Academy of Traditional Martial Arts in Vermilion, Ohio from 1993-1998, and at the Cramer Academy of Martial Arts in Parma, Ohio in 1995. Jay has also taught privately for over 15 years. In 1993 Jay Shrewsbury was featured in a two part series for children's safety on the 43 kids club, channel 43 Cleveland, OH, and local newspapers have interviewed Jay on several occasions. Jay has given multiple demonstrations and has assisted in seminars in kenpo, karate, kung fu, and pa kua. Over the years Jay has also attended numerous seminars including, George Dillman, Joe Lewis, Grand Master Yamazaki, and Al Tracey.
Jay studies and researches healing and self-healing disciplines using "bio energy", and is a member of the Qigong Alliance, Holistic Health Network, Tai Chi Network, and he drives over one hundred miles to take classes in Nervous System Energy Works at the Ursuline-Sophia Center with Carol DeSanto and Jim Kempner. Jay also researches many forms of "healing arts" through seminars, books, and self practice. Jay is also a member of "The Way of Harmony", a group that practices Pakua, Taichi, and Chi-gung. This group is lead by Joe Cavalaro, and has been in existence since 1980. The main styles practiced are Dragon Pa Kua, Yang tai Chi, and Dragon Qigong. The group emphasizes application and are quite sufficient in their uses.
Jay Shrewsbury is also a father of three, husband, and full time employee. He dedicates his time between his children, wife, work, martial arts, and research. Jay can be reached via e-mail, martialarts@oberlin.net, for information and classes he offers, and as a guide to your further interests in healing, martial arts, and philosophies.
Some of the "martial arts" that Jay practices and researches include:
Pa Kua
Tiger Style boxing
10 Animal boxing
5-element boxing
Jade Body Gong
16 longevity movements
5 Element meridian stretching
8 energies
3 remedies
Healing with energy
Nervous System Energy Works