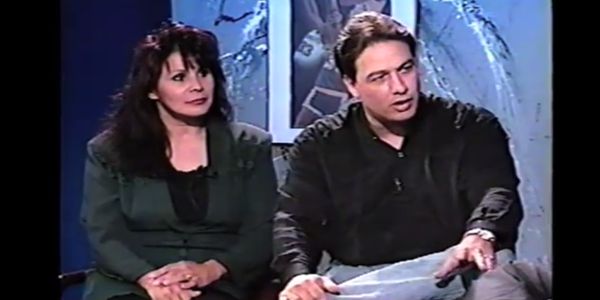 In the early 70's the Urquidez family ruled the ring as the entire clan won fight-after-fight, championship after championship and title after title. They were truly the first family of the martial arts.
Arnold was the elder brother and the first to put on a gi, then came Benny, Ruben Smiley and sister Lilly. Each one became a martial arts champion in their own right, although it was Benny who went on to achieve the greater glory and is considered by many to be the greatest fighter of all time. However, it was Lilly Urquidez who beat all the odds to become the first woman to throw blows and win titles as a female professional boxer and kickboxer.
"I love to fight," said Lilly. "When I was just 5 years old my dad took all the brothers to the gym to box. But at that time girls weren't allowed to box so I wasn't allowed to go even though I loved to fight. So I dressed up like a boy and we didn't tell anyone I was a girl. It was such fun. Every Thursday a bunch of kids would go to the Olympic Auditorium in Los Angles to box. I used to beat up all the boys too. I never lost a fight. Then I got a little bit older and they found out I was a girl and I had to stop going to the Olympic to box."
Lilly Urquidez had no way of knowing it at the time, but she would eventually return to the Olympic Auditorium and stand victorious in the square circle as a world champion. Lilly's road to fame took a decisive turn when her brothers began to study karate.
"My brothers were in the martial arts first," recalled Lilly. "I wanted to train with them but again girls weren't allowed in the gym. Back then they thought that girls didn't belong in karate. So when my brothers got out of class they would train me at home."
Eventually attitudes about women training in the martial arts changed and at age 17 Lilly was finally allowed to train in the gym with her male counterparts.
"I trained in Kempo, then Shotokan, and judo," said Lilly. "Then when kickboxing started all of us got into that."
"As a kickboxer I had 34 fights I lost 2. When I lost it was usually because I hadn't thrown enough kicks. That was the case when I fought Marion Bermudez. She gave me a good Lilly Rodriguez fight but I was beating her, but you had to throw eight kicks per round and I only threw five. Who counts kicks in a fight? I don't think there should be a kick count rule. You could be winning with your hands but lose the round because you didn't throw a certain number of kicks, it just doesn't make sense."
Lilly Urquidez went on to say that her fight with Bermudez was her toughest kickboxing match. However Lilly's most painful fight was against Lucy Ricker, but the pain didn't come from her opponent, it came from her brother.
"Benny and I was sparring, training for the fight, and he kicked me really hard three or four times severely injuring my leg," Lilly said. "So I went into the fight almost crippled. I should never have done that because I didn't stand a chance from the start. It should have been a good fight cause the girl was really tough. But when she kicked my already injured leg she busted a blood clot and I had to be taken to the hospital. I was on crutches for a couple of weeks afterwards."
"I lost on a technical KO and I always wanted to do a re match but I never did," Lilly confessed. "My leg took such a long time to heal and I just gave it up."
In the mid 70's Lilly decided to change venues and return to her boxing roots.
"I was a lot better boxer than I was a kick boxer so I decided to become a professional prize fighter," Lilly said. "I've always had really good hands and I hit hard. As a boxer I had 17 professional fights with 2 loses. Most of my wins came by knock out too. One of those loses was to Lady Tiger, but she out weighted me by 26 pounds. That didn't matter to me though cause I really wanted to fight her."
A new member was added to the fighting family when Lilly became Lilly Urquidez Rodriguez after marrying Blinkey Rodriguez. A world class martial artist himself, he and Lilly became the first ever husband and wife to fight on the same card.
"Blinkey and I do both boxing and kickboxing," Lilly added. "But I don't like to train with him because he's my husband and I don't think it's right for a woman's husband to hit her even if it's in the ring. For a man to hit his wife shows her no respect so we never spar together. I have Benny for that."
Blinkey and Lilly may not train together but they have definitely become champions together.
"I ended up with 56 pro fights, and was very fortunate that both Lilly and I were never seriously hurt," said Blinkey. "My record in boxing was 7-1 and as a kickboxer it was 34-4. And do you realize that Lilly was the first female kickboxer to fight on ABC'S Wide World of Sports? That was right after my fight with Bill Wallace."
The Urquidez family were truly pioneers of the full contact fight game. In the early years they were the ones who challenged the Thai's and Japanese at their own sport and in the process redefined the future for generations of American fighters.
"In the old days the knowledge of the international flavor of fighting wasn't as profound as it is now," Blinkey explained. "When Benny fought Narong Noi in 77 we had never fought Thai's. We had no idea about kicking to the legs, and leg checks. Then we went to Japan and fought the Japanese. We didn't know what to do when they tied us up in a clinch. We learned by watching tapes and that's how we grew as fighters. Without ever really being groomed, Benny and Lilly were able to succeed and in the process we created a new way of training and a new way of fighting."
Blinkey had many great fights, but the one most people remember was the time he took on Bill "Superfoot" Wallace in Las Vegas on national TV.
"My fight with Bill Wallace was a bitter sweet reality for me," Blinkey explained. "With all due respect to Benny, I was always in his shadow. And because we had so much talent in the family, this fight was supposed to be my crowning moment. I had worked my entire life for this fight. I can remember that fight like it was yesterday. I remember training for the fight and the politics that surrounded the fight. The promoter was Bill's manager, and Bill's had a personal friendship with the referee, plus Bill had 12 pounds on me . . . there was another world that surrounded the fight itself. But I was young at the time and didn't think about those kinds of things at the time."
"I had Bill hurt in the 5th round when I threw a right leg to his body and I came back with a left hook to the chin," Blinkey said. "I wobbled him but to his credit he didn't' go down. Now I'd put a lot of tough guys on their back with a lesser punch. But he was on "queer street" and I went in for the kill. Bill tied me up so I pushed him away and nailed him in the stomach with a front kick. The referee called it a low kick to the groin, which it wasn't, and Bill got 5 minutes to rest. If you view the footage you'll see that my foot clearly landed on his hip and stomach. And you can hear the referee yelling 'low kick' and when Bill heard that he grabbed his groin."
Amid a sea of controversy Blinkey lost by decision which almost set up another fight out of the ring between Blinkey and the promoter.
"I almost beat up Joe Corley at an after party," Blinkey recalled. "He was making hits on the family and I got burned up. I went to the suite where everyone was watching the delayed broadcast of the fight looking for Corley. Eventually I got him in the hallway and was telling him what I thought of him. Lilly was right behind me saying 'hit him, hit him,' but I didn't and now I thank God I didn't because it could have given credence to his lies."
"That fight for me has gone beyond the ring and has become a life experience," Blinkey said. "One day Bill came to the center to work out. Bill is a great guy and we talked about how that fight at length. I told Bill how that loss helped me to deal with the death of my son."
"I felt like the my fight with Bill was taken out of my hands by forces beyond my control. For a long time afterwards I was very lonely and upset. Then when a gang member killed my son, I related that incident to my fight with Bill. My son was also taken out of my hands by a force I had no control over. It was then that I realized how my loss to Bill helped to prepare Blinky Rodriguez me to deal with the greatest loss of my life. The loss of my son."
Following the shooting death of his son, Blinkey retired from the fight game and relinquished a promising film career to work with gang members. Instead of revenge Blinkey opted to become a counselor dedicated to stopping gang violence. His efforts have put him in front of congress as an honored guest and the story of his life may soon be the subject of a made for TV movie.
Until her death, Lilly Urquidez trained female fighters at the Jet Gym in Los Angeles, California. Among her students were the next generation of Urquidez fighters which included Benny's daughter Monique, Lilly's niece Veronica, Little Arnold, Arnold IV and Blinkey and Lilly's son Robert.