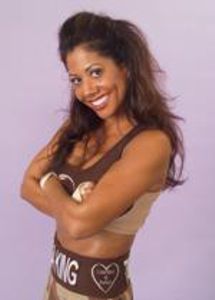 Lisa King, the Black Widow of Muay Thai, was born on January 14th the youngest child and youngest grandchild – into a family of two brothers and she became the proverbial "Tom Boy". She grew up on a farm in a small town in Oregon taking care of cows, horses and chickens which built her physical strength and taught her to be responsible and how to deal with the ups and downs of daily life.
In 5th grade she played the drums in a band. In 6th grade she played softball, and in 7th grade she was petitioning the school principal to be allow ed to play football. She was all about equal rights.
Her mother tried everything to keep her involved in "girl activities", so she did her share of pageants, and girl sports. She played JV Volleyball,  lettered in Varsity Cheerleader and tried track, but she hated it! She still had a passion for the drums and continued with that throughout high school, adding Choir and Drama to spice things up. She served on the Prom and Homecoming court which her Mom loved, but she was more content just hanging out with the guys doing "guy things".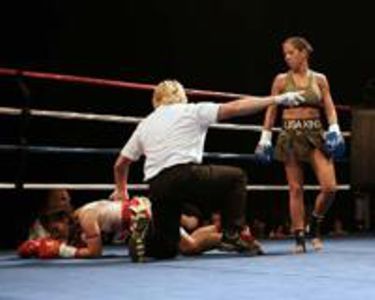 It was during this time that she discovered her passion for the martial arts. but her mom was 100% against it, particularly because she presumed she would get hurt. The more she watched Karate Kid; the more she knew she needed a Mr. Mijagi in her life. In actuality, she admired the fact that all the martial artist she saw portrayed had such a respect and passion for what they did, and she wanted and needed that in her life. However, she was forced to wait until after graduation to explore her passion.
By the time she graduated, her family had moved to Vegas, and she was conveniently old enough to make her own decisions. So despite Mom's objections, she found and began studying Muay Thai with Master Toddy and fell in love with the sport. She began taking the classes to learn fighting techniques but NEVER in her wildest dreams did she think that she would actually fight professionally.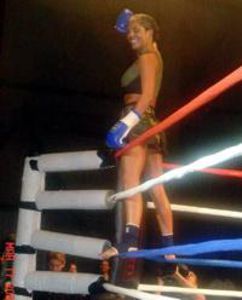 At this point she was already making her living as a marketing professional, so in addition to training, she began planning kickboxing promotions for Master Toddy. It wasn't long before Master Toddy came to her and asked if she would be interested in Commentating. Her first experience was along side the world-renowned Colonel Bob, and she owes her commentating career to the fact that she was trained by the very best.
Master Toddy then challenged Lisa again. He asked her to Ring Announce an all female kickboxing card at the Stardust Hotel. As a marketing professional, of course she was familiar with public speaking – but a corporate boardroom is very different from an arena full of rabid fight fans. As usual, Lisa jumped and everything went well.
At this point the only thing really missing from her ring career was an actual fight until Master Toddy and Master Chan convinced her to get in the ring.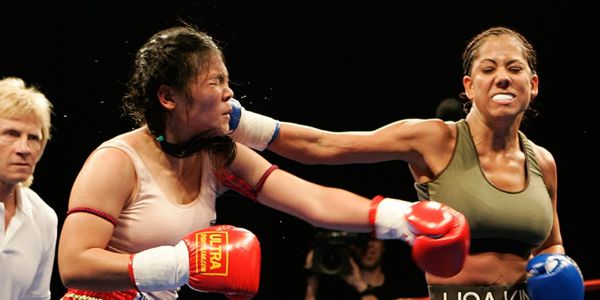 Today, Lisa King is a full contact Muay Thai fighter, with a winning record. She has been inducted into the Black Belt Hall of Fame as well as the Masters Hall of Fame. She has been honored as Black Belt Magazines Woman of the Year and she has been featured on ESPN's I'd do Anything, the theatrical motion picture Ring Girls, the Oxygen Network's 2006 TV-movie Fight Girls, and a four-volume Muay Thai Instructional DVD Series, Vicious Vixens. She has also mentored and trained 10 aspiring female fighters for the Oxygen Network 2007 reality series Fight Girls. When she is not fighting or instructing she continues to Ring Announce, Commentate and Match Make for martial arts events nationwide.
She has now combined her years of  experience in the corporate world and her achievements in the world of martial arts, to move her career in yet another direction – as a much sought after executive protection agent. Already skilled in martial arts and combat, Lisa underwent comprehensive training and certifications in tactical disciplines, firearms, and surveillance techniques. She specializes in conducting advance work, security for female clients and families, and assignments that require maximum discretion.
In the midst of juggling many careers, Lisa is still connected to the corporate world and she owns her own consulting service, Translucent Marketing. The company provides consultation and project management related to business development, media buying, and public relations.