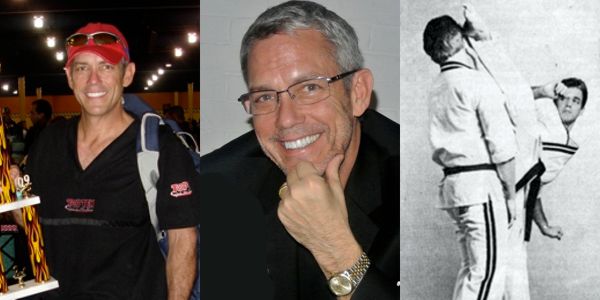 With a flashy fighting style, an almost uncanny kicking ability, a pair of fast hands and a refined sense of timing that put him in the winners bracket more times than not, Goldman was pegged with the nickname "Hotdog" by peer Super-Lightweight black belt fighters in the south.
After watching legendary Hapkido Master Bong Soo Han throw the now famous crescent kick that laid out the "bad guy" in the 1973 film "Billy Jack", Goldman was hooked on the Martial Arts, and in 1973 he signed up for karate lessons in Columbia, SC.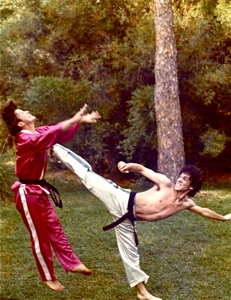 A trip to his first Battle of Atlanta (a losing trip) as a green belt and watching Mike Warren, John Natividad, Howard Jackson and others convinced him that competing in Sport Karate (and winning) was what he wanted to do.
He trained at various times with instructors Howard Vanderbeck, Tom Jorge, Bruce Brutschy and future Black Belt Hall of Fame Fighter Keith Vitali.
Goldman received his 1st Degree Black Belt in 1976 in Tae Kwon Do (from Vitali) and was a member of the USC Karate Team (with team-mate Richard Jackson) competing in and winning numerous Open Karate Tournaments throughout the Southeast USA.
After Vitali moved to Atlanta, Goldman continued his training with a man he calls the "smartest fighter God ever created" Mike Genova.
Under Genova's guidance, Goldman continued to win placing 1st, 2nd or 3rd in any tournament he entered and consistently climbed in the Karate Illustrated Ratings at one time even holding the #1 position over instructors Vitali, Genova and Brutschy (an honor that to this day Goldman calls a "terrible mistake" by the voters).
During that time he was named the 77-78 South Eastern Karate Association (SEKA) Super-lightweight Black Belt Fighter of the Year, and when the World Journal of Martial Arts became the first magazine to officially recognize the top ten sport karate fighters in the world in the late 70's, he became the first and only Super-Lightweight Black Belt at the time to be world rated in point fighting when that magazine ranked him the #7 best black belt in the world (combining all weight divisions to reflect the 10 best at the time).
He has competed in (winning or placing in) tournaments sponsored by almost every major sanctioning sport karate organization, including the PKA, PKC, ISKA, NBL, WKF, USKA, KRANE and NASKA.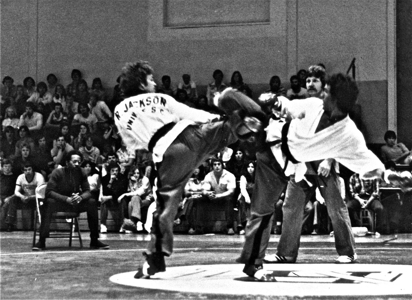 In 1979 Goldman was bitten by the music bug, putting competing in karate tournaments on the back burner to compete in dance contests and even hosted a television show called DANCE on NBC before deciding that DJ'ing and the entertainment business was in his future because (in his words) "there's currently no money in sport karate and it's not part of the Olympics yet.
In his professional career outside the Sport Karate world (now as a Senior Executive Producer) he has been involved in numerous high profile productions including The Red Bull Air Race for a live audience of 500,000, the Superbowl XXIX Half-Time Show for Disney, The Sports Broadcasting Hall of Fame Induction Ceremonies (4 times), The Academy of Television Arts & Sciences Hall of Fame Ceremonies and has worked with NBC, CBS, ABC, ESPN and FOX.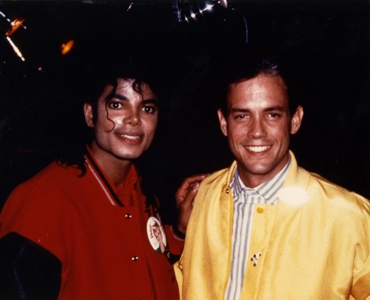 He has worked with numerous performers, actors and sports superstars including; Michael Jackson, Lady Gaga, Kesha, Academy Award Winner Shirley McClaine, Tony Bennett, Garth Brooks, Trisha Yearwood, Smashmouth, Shaquille O'Neal, Charles Barkley, Dana Carvey, Joe Dimaggio, Yogi Berra, Miami Sound Machine, Bill Cosby, Loverboy, Lionel Richie, Leann Rimes, The Beach Boys, Jason Alexander, Tom Cruise, Jay Leno, Destinys Child, Akon, Pitbull, Cyndi Lauper and many, many more.
Goldman, has continued to stay active in Sport Karate, occasionally jumping into the ring whenever it suits him. In 2000 he decided to fight seriously for 1 year (or as seriously as a full time producer can while doing shows and events around the country) and managed to win the NASKA 40-49 Lightweight Black Belt World Championship in the process. Finishing 1st, 2nd or 3rd in every major open karate tournament held on the world tour (and some that weren't on the tour) including the following:
The USA Nationals
The World Series of Martial Arts
The Empire State Nationals @ Madison Square Gardens
The Compete Nationals
The Southern American Karate Championships
The New England Open
The Cactus Classic
The Bluegrass Nationals
The US Capitol Classic
The US Open & International Sport Karate Association World Championships
The Battle of Atlanta
The Diamond Nationals
In 2009 (after having not fought for 2 years and because the tournament was a couple of miles from his house) he fought in the 50 and over Lightweight Black Belt Division at the US Open taking 2nd place.
"I wasn't watching the clock said Goldman. Ahead by a point with less than 5 seconds to go he went on the offensive (a "bad move" said friend and future Hall of Fame Black Belt Joey Shifflett) and lost in OT after his opponent tied the score.
He swears that if he ever has the time to train seriously, the 50 and over division will see him on a regular basis, because age is irrelevant to him. When asked he simply replies, "if you didn't know how old you were how old would you be?"