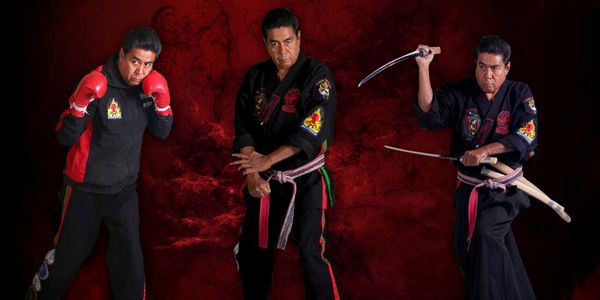 Grandmaster Pablo Rodarte was born on February 1, 1959 in the city of Toreon Coahuila, Mexico. When he was about two months old, his parents moved to Ciudad Juarez, Mexico in search of a better life. He still resides in Ciudad Juarez, Mexico today.
At the age of four he began training in the martial arts under his father, an ex-marine from the Naval Force in Mexico. He continued his studies with Grandmaster Enrique Nunez (R.I.P), and with Grand Master Charles Dixon. During his youth, Grand Master Rodarte joined the military school of El Penthatlon and studied Judo, and Jiu jitsu. At the time he was named chief of the sports section of the Penthatlon Military Institution which gave him the opportunity to introduce Kenpo and Kick Boxing and form an excellent group of Kenpo practitioners and Kick Boxing fighters with members of the Military Police and the Assault Team, of which he became the Chief Commander.
In 1977, Grand Master Rodarte gained the respect and recognition of the Martial Arts community by becoming the national Champion of Kata and Kumite of the Military Schools of El Penthatlon. After this championship he won numerous other championships during his competition years.
In 1976, Grand Master Rodarte established his first martial arts school a few blocks away from the border of El Paso, Texas. This location open the opportunity for frequent challenges from the Military personnel of Fort Bliss that visited Juarez, forcing Rodarte to hone his skills the hard way, with people from other countries and other systems of fighting. The meticulous, devoted disciplinarian he was perceived as, gave him the ammunition to succeed and enhance his knowledge from these confrontations.
At the age of eighteen, Rodarte was already a well renowned instructor because of his high level of competition and his unique style of instruction and demonstration of the Shinjimatzu Kenpo System. He perform at his best, displaying his years of experience and knowledge to audiences, when he did presentations in order to capture his audience's interest. This left his audience with the desire and motivation to learn about and respect martial arts. His school to this day is the oldest in the city of Juarez with 37 years at the same location. His siblings Ricardo and Carmen Rodarte run the school. Grand Master Rodarte's headquarters are located at 804 Hempstead Dr. El Paso TX, 79912.
When he finished his professional education graduating from the University of Ciudad Juarez as a Public Administrator, Rodarte personally trained his brother in Professional Kick Boxing taking his brother to the Super Fly weight Championship from the W.K.A., giving Mexico recognition for the first professional World Champion in Kick Boxing in the oriental way of fighting. Grand Master Rodarte, later became the representative of the WKA for all of Mexico named by Mr. Howard Hansosn, WKA President at the time.
During his growth in martial arts, Grand Master Rodarte learned a wide range of martial arts such as Karate Do, Go Ju, Judo, Ju Jitsu, Full Contact, Boxing, Kali, Aikido, Tae Kwon do, Thai chi, Chuan Fa, Five Level Method of Kenpo, Muay Thai, Kick Boxing, MMA, Shorinjin Kempo, systems which gave him a better vision and sense of respect for the martial arts. Because of the great number of Grand Masters from different countries and cities of the world members of S.I.M.A. (Shinjimasu International Martial Arts Association), Grand Master Rodarte increased his knowledge as well as continued his teachings of Shinjimatzu Kenpo Rodarte and Kick Boxing Rodarte. Since then, he achieved the status of 10th Degree, Doctorate of Martial Arts given to him by the Chairman of the Shinjimasu International Kelligion College of Martial Arts School, Grand Master Charles A. Dixon, Ph.D., and the S.I.M.A. Board of Directors who gave Grand Master Rodarte the alias of "Ghost Hand".
In 1993 Grand Master Rodarte received the Master of the Year award. In 1997 he was inducted into the Grand Master Don Nagre Hall of Fame in the category of Silver Life Achievement of the year and Master Instructor. In 2012 he was inducted into the USA Martial Arts Hall of Fame " Hall of Heros" in the category of International Grand Master of The year. In 2013 He was inducted into the USA Hall of Fame " Hall of Heroes " in the category of Living Legend Award".
He currently has representatives of his system worldwide and travels frequently to give seminars, ranking and to supervise his franchise schools. He founded the Shinjimatzu Kick Boxing and Muay Thai International Association for the purpose of promoting the great number of Mexican Fighters that have not been given the opportunity to show their talents.
Grand Master Rodarte has produced several videos such as Basic Physical Conditioning for Kick Boxing, Kick Boxing for Beginners, Shinjimatzu Tai Mantis, Free Sparring, and Professional Kick Boxing.
Since 1979, he has organized the "Shinjimasu International Karate Championships" tournament of Martial Arts and Kick Boxing. He has video tapped alongside Grand Master Robert Temple for Black Belt Video Magazine on May 4, 1997 and has written the following manuals under the Shinjimatzu system: Kenpo basics, Blocking set, Blocking Set in Motion, Punching Set, Punching Set in Motion, Kicking Set, Kicking Set in Motion, Tiger and Crane Two Men Set, Self Defense Techniques for Beginners, Free Sparring Techniques for Yellow Belts, Free Sparring Techniques for Orange Belts, Form Angles of Defense 1, and Form Angles of Defense 2.
Grand Master Rodarte is in the process of completing his books: Shinjimatzu Kenpo Rodarte System, The Ghost Hand and Professional Kick Boxing.