Professor Phil Ross is Chief Instructor and System Developer, has been involved in the Combative Arts for over 40 years. In addition to his instructorship ranks in Bando, Aiki Jiu Jitsu, Taekwondo, Arnis, CDT and Shamrock Submission Fighting (catch wrestling), he has won National, State and Regional Titles while competing in a multitude of disciplines.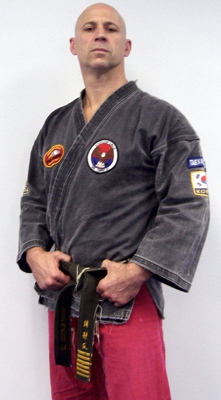 Phil Ross is also a Brazilian Jiu Jitsu Instructor under Professor Mitch Coats of The Base  which is member of Checkmat BJJ, founded by Leonardo Vieira and Ricardo "Rico" Vieira. In addition to teaching martial arts, Mr. Ross, aka The Kettlebell King, is a Master RKC, ACE Certified Personal Trainer and Certified Bodyweight Specialist and the developer of Survival Strong, the self defense and bodyweight strength system.
A competitor on the National Level from 1979-2010, Master Ross won titles in kickboxing, wrestling, karate, taekwondo, submission fighting and Brazilian Jiu Jitsu. He was also a coach for fighters in the UFC and Bellator, Ring of Combat as well as many amateur shows.
Phil Ross is also a video star and producer, author and presenter, and has The S.A.V.E. Video Series, and The Kettlebell Workout Library (in DVD and Online). He is featured presenter on the Leaders in Fitness website, and has the Advanced Kettlebell Workout to his credit. He has two books that were published in 2016, Ferocious Fitness and Survival Strong. He has also appeared in several commercials, on television talk shows, and at corporate and educational events.
Master Instructor Ross was inducted in the Martial Arts Hall of Fame and was a high school wrestling coach for an NJ State ranked team. He has had the good fortune of either training under and/or receiving ranks from:
Professor Jon Collins: East/West Martial Arts Alliance/Bando
Dr. Patrick Finely: Bando/Arnis & Shootfighting
Frank Shamrock: Shamrock Submission Fighting
Dr. Maung Gyi: American Bando Association
Shihan James Martin: Shotokan Karate
Guro Dan Inosanto: Arnis (Through Patrick Finely)
Tom Patire: CDT
Dr. Mike Evangel: Taekwondo
Chris Catalfo: US Wrestling Olympian
Dave Pruzansky: Pan American Judo Champion
Carl Cestari: Combatu Defendu Jujutsu
Cosmo Ferro (Grandfather) – Western Boxing, Silk City Gym, Paterson, New Jersey
Pavel Tsatsouline – Russian Kettlebell Challenge Certified Instructor
Professor Mitch Coats: Brazilian Jiu Jitsu
Master Phil Ross owns and operates American Eagle Martial Arts Academy which is comprised of a unique blend of Martial Disciplines including Taekwondo, Bando, Jujutsu and Arnis make for a system that is well suited for the street, ring, artistic competition, physical fitness or "peace of mind".
The techniques studied and philosophies employed have deep roots in the long standing tradition of Martial Arts, coupled with the ability to adapt to the situations and demands of modern day society. Fitness, practicality, growth, development of motor skills and a positive environment are the direct results of our methodology.
For more information about Phil Ross and his martial arts school, American Eagle MMA & Kettlebells, visit the website at https://philross.com/ and the American Eagle MMA & Kettlebells listing on the Martial Arts Schools and Businesses Directory by clicking on the image on the left.