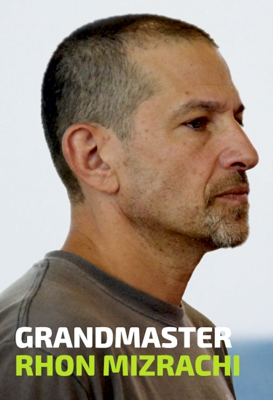 Rhon Mizrachi began his training at the age of 7 under Krav Maga Founder Imi Lichtenfeld and Grandmaster Haim Zut. He has continued training and teaching since then, with over 40 years of experience. He has dedicated his life to the art of Krav Maga.
Throughout his life, Rhon has chosen to enhance his skills as a martial artist, fighter, and Krav Maga practitioner through continued training. He has extensively trained in other styles (Jiu Jitsu, Muay Thai, boxing for examples), believing that training in and respecting other arts is part of what it means to be a martial artist. He continues to increase his own abilities through persistent training and teaching.
Students train with Rhon because of his proficiency in and knowledge of Krav Maga, as well as his reputation as an aggressive fighter.
Not only does he teach students the highest level of the art, he teaches what it means to have to fight if one does get attacked, the concepts behind the physical training.
Rhon lives by the code of a martial artist. While Krav Maga is the vessel that Rhon uses because of his skill and expertise, it is in fact helping people grow and change that he feels is the responsibility of a teacher.
His goal is to have students who are ultimately better Krav Maga practitioners than he, and believes that this should be the aspiration of any true teacher.
Born and raised in Kibbutz Gan Shmuel (his father an 8th generation Israeli and mother a holocaust survivor), like every other Israeli Rhon served in the IDF. He is a combat veteran, but he does not teach Krav Maga based on his knowledge of military applications. Training to be a soldier is not the same as training in the art of Krav Maga.
(He also chooses not to discuss his military experiences).
In 1980, Rhon took his full instructor course presided over by Imi Lichtenfeld. Rhon was made a Full Instructor of the art, certified by the Wingate Institute for Physical Education and Sports, a world-renowned training center for Israeli national and Olympic athletes and martial artists.
(Wingate is under the auspices of the Israeli Ministry of Sport and Education)
In 1990 Rhon established the first school in the United States affiliated with Imi's organization, Israeli Krav Maga Association – Kapap.
Rhon tested through all ranks of Krav Maga attaining a 5th Dan from Grandmaster Haim Zut (the last rank based on material). In 2005, Rhon was awarded the title of Master Instructor by Grandmaster Zut, thereby ensuring his legitimate right to protect and uphold the future of the authentic art of Krav Maga.
He was awarded a 6th Dan for his lifetime commitment to the art by Master Uri Refaeli.
Grandmaster is a title used to describe or address certain senior and experienced martial artists. Typically these titles are honorific in nature, meaning that they do not confer numerical rank, but rather distinguish the individual as revered in their school and style.
Based on his insight in, knowledge of, and contributions to the art, Rhon has been recognized as Grandmaster of the Krav Maga Federation. The belt that Rhon wears is unique – it is the physical representation of his standing in the Federation.