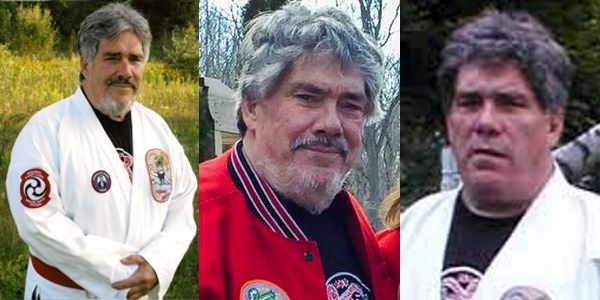 Robert White was born July 14, 1939. He grew up in Pennsylvania, but for most of his adult life has called Michigan home. He attended Western Michigan University where he played football and studied to be a teacher. After graduation, be taught science and history in Junior High School and High School.
He played football professionally as a linebacker for the Grand Rapids Blazers of the World Football League. Besides playing football and teaching, Robert White also worked as a salesman for Charles Pfizer, and later for Bristol-Meyers Squibb.
His love of contact sports eventually led him to Sensei Jim McLain at the Grand Rapids YMCA in 1965. Sensei McLain was a top student of Grand Master Robert Trias, founder of the USKA, and the first person to open a karate dojo in the United States (in 1946 in Phoenix, Arizona).
Master Robert White joined McLain's dojo and rose to the rank of Brown Belt in the Shorei-ryu style of karate before Sensei McLain moved away.
Afterwards, Robert White went from school to school searching for the real karate he was after. He finally found it in Detroit, at an Isshin-Ryu school founded by Ken Pittaway and taught by Doug Noxon and Willie Adams. He earned his Shodan in 1970, and his Ni-Dan in 1971, with certificates signed by Grand Master Tatsuo Shimabuku.
Robert White studied with such other notable Isshin-Ryu Masters as Norbert Donnelly, Bill Pogue, Angi Uezu, and Kichiro Shimabuku. Robert White has studied and taught Isshinryu ever since, though he has expanded his interests by learning from such accomplished Martial Artists as Remy Presas (stick fighting), Seiyu Oyata (Tuite Kempo, grappling, and. nerve point fighting. Shinkichi Oddo (Okinawan weapons), Ed Parker (American Kempo), Roy Osborne (Shorin-ryu), Michael Brodman (Shorinji-ryu), Master Koshida (Aikido), John Osako (Judo), Al Wasil (Kung Fu, Tai Chi Chi Kung), Jwing-Ming Yang (Tai Chi, Chi Kung, and Tadashi Yamashita (Shorin-ryu). Master White also traveled to study with Isshin-Ryu pioneers Don Nagle, Harold Long, and Steve Armstrong, and as recently as February, 1997, journeyed to Thailand to study Muay Thai kick-boxing.
Robert White served as an officer in the American Okinawan Karate Association, a member of the board of the Isshin-Ryu Hall of Fame, and President of the Okinawan Karate Clubs, Inc. He has been teaching for over 20 years in Northville, Michigan and has added classes in Novi and Ypsilanti. He recently began offering Tai Chi classes through Northville, and Cardio-Karate classes at Novi.
Through his karate classes, he has spread Isshin-Ryu to a new generation by promoting over 70 students to the rank of Sho-Dan. Sensei White is married with three daughters. Barb White, Mr. White's wife, Barb, and his three daughters, Danielle, Linear, and Barbie, are all active in the Martial Arts.
In the 1970s, Master Robert White competed in hundreds of tournaments, facing tough competitors such as Mike Stone, Nick Adler, "Sugar Bear" Bob Hogan, "Monster Man" Everett Eddy, Jim LaRocco, Joe Lewis, Benny "the Jet" Urquidez, and Shorty Mills (who was nearly seven feet tall and appeared in the movie Black Ninja). Before retiring from the tournament scene, Master White won over a hundred trophies and plaques for both his fighting and for his kata performances. In 1973, while traveling the world as a salesman for Squibb, he visited Okinawa, where he personally met Tatsuo Shimabuku.
Study of the Martial Arts often leads to an increased interest in health and alternative medicine. Sensei White has pursued studies in acupuncture, acupressure, Naturopathic treatments, herbal remedies, and hypnotism. One time he joked it would only take him 30 lifetimes to learn all the subjects he wanted to study. It is his delight to pass on his knowledge in these fields to any of his Martial Arts students who express an interest.
On December 6, 1997, Master Ken Pittaway, a 9th degree Black Belt, promoted Master Robert White to 8th degree Black Belt, Hachi-Dan.
Master Robert White has been profiled in Who's Who in Isshinryu, and in Isshin-Ryu Karate – The Ultimate Fighting Art by Harold Long and Tim McGhee. He is mentioned in Norbert Donnelly's book Dojo, and has been written up in a number of articles in Black Belt magazine.
Master White has been profiled in Who's Who in Isshin-ryu, and in Harold Long's book Isshin-ryu Karate-The Ultimate Fighting Art, and is mentioned in Norbert Donnelly's book Dojo, and has been written up in a number of articles in Black Belt magazine.
In 1999, Master White's dedication to Isshin-ryu was recognized by the Isshin-ryu Hall of Fame when he received the organization's first ever "Lifetime Achievement Award." In the year 2001, he achieved the high honor of being inducted into the Isshin-ryu Hall of Fame!
In 2008, Master White received his greatest reward – for all the time and effort he has put forth as a: Father and Teacher- never being selfish of his time, the rank of "Ku-Dan" – Red Belt/ 9th degree was Awarded to Sensei White while attending a martial arts tournament to benefit children in "Aids/reserch". Sensei White was recognized by a quorum of the highest ranking Masters in our system today, and thus awarded the rank of 'Ku-Dan'!