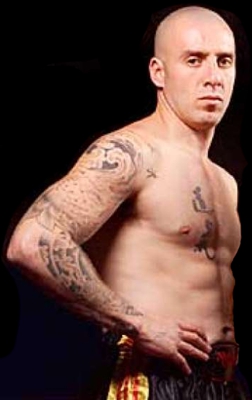 Rudi Ott began his study in martial arts at the age of 11 in traditional Chinese kung fu in Boston, Massachusetts. At 13 he traveled to China for extensive training with the Beijing Wushu Team. As he progressed the pressures of growing up in an urban environment overcame his want for the rigorous training that martial arts demands, and at 14 he gave up his passion.
Throughout the next 10 years Rudi Ott found himself uninspired with lack of direction. By the age of 24 he was caught in a self-destructive lifestyle and facing the possibility of incarceration. Rudi knew he had something to offer and wanted to have a positive affect on those around him, so when he re-entered the kung fu school it all came full circle. Martial Arts was the vehicle for creative self expression and a mode for learning more about himself. He threw himself back into training, making every sacrifice and meeting every demand that was required of him.
In 1996, Rudi Ott started training in San Shou under Jason Yee winning the U.S. Amateur National Championships 3 years in a row, and becoming a member of the U.S. National Team in 1997. In 1998 Rudi relocated to Vancouver B.C. to study internal Chinese kung fu and Qigong with renowned Master Liang Shu Yu. But he missed the challenge and excitement that fighting presented and in 1999 moved to San Jose, California to resume his fighting career with his National Team captain Cung Le. That year he turned pro and captured the IKF U.S. Middleweight Championship in San Shou. In 2000 he took the ISKA Super-middleweight title, and in 2001 the IKF Intercontinental San Shou title. In 2002 Rudi is primed for the World Championship Belt. Under Cung Le and trainer Jivoni Jordan he has solidified himself as one of the top middleweight fighters in the World eagerly ready for the many challenges which await him.
As Cung Le's top fighter Rudi Ott acted as one of the main instructors For fitness and conditioning, The Head Coach of the Cung Le's Kid's Program and assistant coach to the UsH! Fight Team.
In 2005 Rudi Ott started his own school for martial arts Unlimited Kickboxing Training Center. As a teacher Rudi wants to pass on his passion for training as well as help mold his students into positive role models and future champions. Rudi believes martial arts is a dynamic means of personal growth and self- fulfillment that if sustained will lead to a healthy and rewarding life.