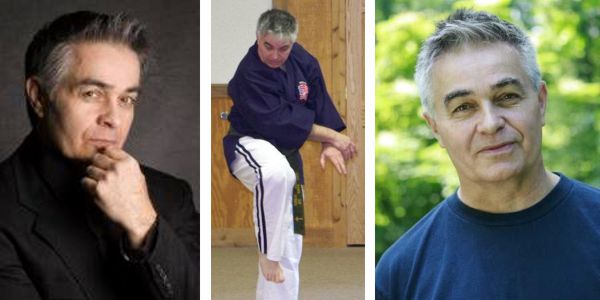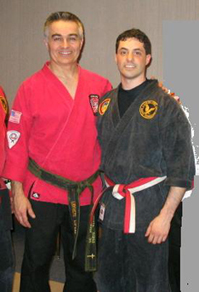 Fran Pultro, staff chaplain at St. Christopher's Children's Hospital in Philadelphia, is also the lead chaplain-pastor of the Christian Black Belt Association (CBBA), a national organization of Christian martial artists. One ministry of the CBBA is to train martial arts chaplains, whose purpose is to help their students and families when needed. Pultro said they are in the process of developing tools for distance learning in this field. "All of our members have done some counseling," he said, such as being called in to pray with the sick or officiating at funerals.
Pultro said that being a martial arts instructor in a rough urban neighborhood brought him very close to his students and their families. "Our dojang was the only 'church' many of them attended. (Dojang is the Korean word for place of the way; it is dojo in Japanese and kwan in Chinese). They came for the classes, but their parents came for the counsel on everything from problems with food, housing, health, and parenting. They feel comfortable with us," Pultro said, "and realize we hold confidences." Pultro found this going on all over the martial arts world. "Many martial arts teachers were being chaplains by default and they didn't even know it. Because we see our students more hours per week than their priests, ministers, rabbis, or other spiritual leaders, we are more involved in their lives," said Pultro who has an MA in education and is completing his PhD in theology.
But let's back up to where this all began. It was Pultro's early career as a dancer in the 1978 movie "Grease" and other films that led him to martial arts. "I had always been kind of an outsider in the dance world," he explained. "I was a soccer player and wrestler in school, so gravitated towards martial arts as a way to stay in shape for future roles." His first lessons were at the Chuck Norris studios in California before Norris became a famous actor and author of bestselling books, The Secret of Inner Strength, and The Secret Power Within: Zen Solutions to Real Problems.
Pultro came home to Philadelphia to raise a family and pursue his interest in the ministry, but he continued training in the martial arts and eventually earned a black belt in four different styles. He is a four time national Kata champion who placed 13th in the 1997 USKA World Championships, and in 1999 was inducted into the World Karate Federation Hall of Fame.
Many years ago, while still competing in martial arts tournaments, Pultro met a world-champion martial artist from the 1970's whose personal life was at a low point. "Because I was a national champion in kata, he was willing to listen. That's the thing in this field; if martial artists respect what you can do in the ring, they will listen to your counsel. I was able to help him with some personal issues and we became life-long friends," he said. Years later when his friend was diagnosed with pancreatic cancer, Pultro was able to be a chaplain to him for his few remaining years, helping him bring his family back together, restore his relationship with his very distant son and at his request officiate at his funeral.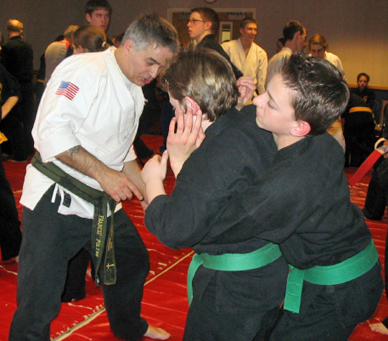 However, with the popularity of martial arts movies during the 1970s and 80s, Pultro felt the public was getting the wrong impression of what martial arts is all about. He had become discouraged by what he saw as a disconnect in the character and behavior of some of the martial arts teachers who used their positions to have inappropriate relationships with their young students, or with mothers of students. "Martial arts training is meant to help a student develop physically, mentally, spiritually and build good character traits," he said. "We wanted to elevate the martial arts."
After 10 years, and now the father of two young daughters, he chose to open his own dojang, the Philadelphia Academy of Defensive Arts (PADA), advertising as a Christian Martial Arts school with an emphasis on character building. (Pultro's three daughters and two sons, now young adults, all have black belts. "As an inner city pastor," he said, "this was a good family activity for us.") Pultro still was not sure his school would succeed but was surprised at the number of people who wanted to enroll. "We don't turn away students of other faiths. We have Muslims, Buddhists, and they often feel more comfortable with us," he said, "because we don't deal with the politics associated with the art. Everyone feels welcome."
Pultro's dojang was in a very poor neighborhood, so he kept the cost to the minimum. From 1986 until it closed as a full time school 20 years later, he never raised the rates. "We paid our bills," he said, "but more importantly, we became affordable for many single moms and children in difficult family circumstances. I didn't want these women to lose their kids to the streets, so I had the students wash windows and clean the dojang to pay for their lessons. Over time I had the cleanest martial arts school in Philly!" Pultro also developed and taught a women's personal safety course from 1995 to 1999 at Temple University and is the author of Easy Steps of Self-Defense, published by McGraw Hill in 1997.
Pultro could not sustain the school financially, so prompted by the insistence of dedicated students he moved it into his church, keeping it open as a church club. PADA is now an outreach ministry of the church he pastors, Calvary Chapel King's Highway. "Now that my core students are established in their careers in the Philly area and are almost ready to begin teaching, we will soon have a cadre of black belt instructors who can share the teaching responsibilities," he said.
The circumstances in the lives of his congregation and neighborhood also spurred Pultro into taking critical incident stress management (CISM) courses through the International Critical Incident Stress Foundation (ICISF). This led him to serve as a part time volunteer chaplain with the Philadelphia Police Department. He also served at the World Trade Center on 9/11 and was deployed to New Orleans, Los Angeles, and Bay St. Louis, Missouri in the aftermath of Hurricane Katrina.
The martial arts have sometimes intersected with Pultro's role as a pediatric hospital chaplain, a post he began in 2002. A 10-year-old student from another martial arts school was diagnosed with a fast-growing cancer when he was a few weeks away from taking his black belt test. The parents, still in shock, were not open to a visit from the hospital chaplain who many in such circumstances see as a reminder that their child is soon to die. However, when he learned that this boy was a martial arts student, Pultro used that as the key to communicating with the grieving parents. Over the next few weeks, they became close and in the end, the child was awarded his black belt posthumously in a ceremony at his own martial arts school, which was a comfort to his grieving parents. Pultro's students made a formal presentation at the boy's martial arts school, bringing gifts to help grieving children who lost a co-student and friend.
Many Christians, according to Pultro, do not believe the martial arts is compatible with Christianity, but the support of being with other Christian martial artists helped develop the martial arts chaplaincy within CBBA. He said many of the chaplains in the CBBA had been military chaplains, and the program is modeled after military training. "While not always pursing CPE, these chaplains provide spiritual care," he said, "but it wouldn't work if the patients didn't respect what we do." Pultro is also the editor of Wisdom for the Warrior:
the Bible for Martial Arts.
Because of his extensive contacts in the martial arts field, Pultro welcomes inquiries from fellow chaplains interested in the martial arts.
In addition to his Black Belts, Pultro also keeps up his membership in the Screen Actors Guild and continues to dabble in movies. His latest role is in the 2013 independent film, The North Star, about an escaping slave. "It's a great stress reliever, being able to pretend to be someone else," he quipped.
About the Author
Marian Betancourt is associate editor of PlainViews and a professional writer and editor who has published many books including What to Do When Love Turns Violent, published in 2001 by HarperCollins. The New York Times called it "the best single resource." It is now available as an ebook.
This article was first published on November 19, 2014 in the PlainViews®, a publication of HealthCare Chaplaincy NetworkTM. Contact us at PV-Support@healthcarechaplaincy.org