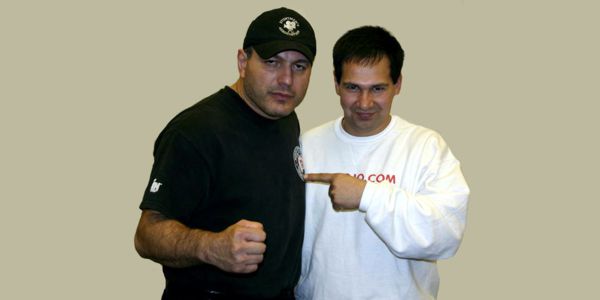 Jesus Suarez is the founder of the Multi-Martial Arts System (MMAS) which combines Kali, Eskrima, Arnis, Karate, Boxing, Muay-Tai, Wrestling, Jiu-Jitsu and Jet-Kune-Do concepts in one innovative program. Sensei Suarez developed this system after 26 years of martial arts training in multiple martial arts. He studied Wado Ryu with Isamu Mitsuhashi and Fernando Mesa in Mexico and Wado Ryu and Shinto Ryu with Francisco Arana. He studied Kenbukai (Shotokan) with Miguel Solis. He studied Kendo and Iaido with Alejandro Silva. He studied Judo with Carlos Ventura. He was an assistant instructor with Fernando Meza in the IMB (International Martial Arts and Boxing) Mexico under Richard Bustillo. He trains in Doce Pares and San Miguel Eskrima with Ramon Rubia and Eva Canete-Rubia of Doce Pares International, the California Chapter.
In November of 2005 Sensei Jesus Suarez competed at the World Eskrima Kali Arnis Federation (WEKAF) Regional Tournament and qualified for Nationals in double stick. He will be competing again on February 17th in Milwaukee, Wisconsin.
Born in Guadalajara Jalisco Mexico in December 13, 1967, Sensei Jesus Suarez started training with his Uncle Luis in traditional Karate (Shoto-kan style) at the age of 4. Karate was fun and games until, at age 9, Sensei Suarez realized that Martial Arts was going to be his path.
In 1976 Sensei Jesus Suarez began training in Wado-Ryu (the way of peace or harmony) with Sensei Fransisco Arana (long time Captain of Wado Kai in Universidad of Guadalajara) and Sensei Isamu Mitsuhashi (the father of Wado-kai in Mexico). In 1980 Sensei Fransisco Arana introduced Sensei Suarez to Shito Ryu. In 1983, with Sensei Mitsuhashi, Sensei Suarez trained in Shinto Yoshin Ryu (old ju jitsu style, a very important part of Wado Ryu) The same year Sensei Suarez met Sensei Carlos Ventura, a respected Judoka, and began training with him in Judo. In 1987 he began training in Kendo & Iaido, he traveled to the United States to see one of his Sempais, Alejandro Silva (top student of Kiyoshi Yamazaki and founder of Ryobu Kai in Mexico). Alejandro Silva introduced Sensei Suarez to Kiyoshi Yamazaki (top student of Yasuhiro Konishi, Founder of Ryobu Kai).
In 1990 Sensei Jesus Suarez went back to Mexico and started training in Kenbu kai (shoto kan) with Sensei Miguel Solis, top student of Iwasaki Sensei (the father of Kenbu Kai in Mexico) Today sensei Solis is head instructor.
In 1994 Sensei Suarez, with enough understanding of traditional karate and the Japanese arts, made a drastic change in his training and began working out with Sempai and Sifu Fernando Meza in the IMB Academy (International Martial Arts & Boxing) in Guadalajara Mexico.
Sifu Fernando Meza is a former student and close friend of Sifu Guru Richard Bustillo, (top student of Bruce Lee and head instructor of IMB Academy based in Bruce Lee's Jeet Kune Do, Eskrima, Kali, Arnis (the Filipino martial arts), Muay Thai from Ajarn Surachai Sirisute, Brasilian ju jitsu from Machado brothers Shootwrestling or shootfighting from Jorinaga Nakamura (top Student of Sousai Satoru Sayama the creator of Shootwrestling or Shooto).
On March 18 of 1997 Sensei Suarez received the title of full instructor in Multi-Cultural Martial Arts from Sifu Fernando Meza. In 1998 Sensei Suarez traveled to the United States and become a special student of Ramon Rubia and Eva Cañete Rubia of Doce Pares International (Filipino M.A.), head instructors of the California Chapter.
Sensei Suarez has spent 16 years researching the martial arts and 6 years of collaboration with Sempai & Sifu Fernando Meza, who is also a respectable martial arts journalist.
Sensei Suarez has participated in many Events and Tournaments:
October 22-23, 1993 – "Way of Peace" International Tournament in Mexico with Ryoichi Sasakawa (president of Wuko at that time).
From 1983 to 1987 – State Champion in Kumite & Kata ( fighting & forms)
From 1987 to 1995 – Assistant Coach of the University of Guadalajara Karate Team, under the supervision of Sempai Jaime Reinoso
August 27-30, 1987 first Panamerican Estudiantil in Puebla Mexico
July 30, 1989 – Kumite Champion in Yuishin Kan International Tournament & Seminar by Hanshi Tomoharu Kisaki (top student Gogen Yamagushi)
In 1991 Regional Kumite Champion
From 1998 to 2001 Sensei Suarez was an instructor in Ernie Reyes West Coast Martial Arts
Since 1999 Sensei Suarez has been a member of Doce Pares International