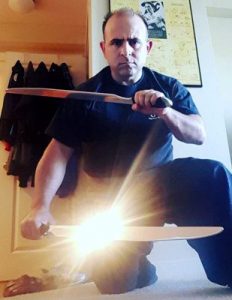 Nelson Pinto was born in Manhattan in Greenwich Village, New York City, but he spent most of his life in Portugal. In 2012, he moved to the United States and currently lives in Spokane, Washington, where he works in law enforcement and teaches martial arts. He began his martial arts training at the age of 15. He achieved his 1st degree Black Belt in Portugal, under his teacher, Master Carlos Pedro and under the supervision of Grand Master Chung Sun Yong, 9th Dan in Tae Kwon Do.
Master Pinto recently achieved his 5th Dan in Modern Farang Mu Sul, under the Modern FaRang Mu Sul founder, Grandmaster Michael De Alba. Since 2012 he has been immersed in the Filipino martial arts, studying Balintawak Cuentada under Guro Soriano and GM Bobby Taboada, and Bahala Na – Original Giron Escrima under Grandmaste Michael Giron. He also studied Filipino Boxing (Panantukan Silat) with Guro Marc Halleck.
Master Nelson Pinto has taught at his school in Portugal and started schools in Portugal, Russia, England, Brazil, Moldavia, and finally in Spokane, Washington. He has also taught seminars in the United States and abroad to civilians, law enforcement, and various military forces in Europe, the Middle East, the United States, and the Caribbean. He taught several years as a Defensive Tactics Instructor in Portugal. In addition to being a personal student of many of the top martial arts instructors, he has also had the opportunities to train with other celebrated Grandmasters of many martial arts styles.
Nelson Pinto has been honored with awards for his martial art prowess and contributions to community, government, and military entities, with many appearances in mass media (TV, radio, international magazines, and newspapers).