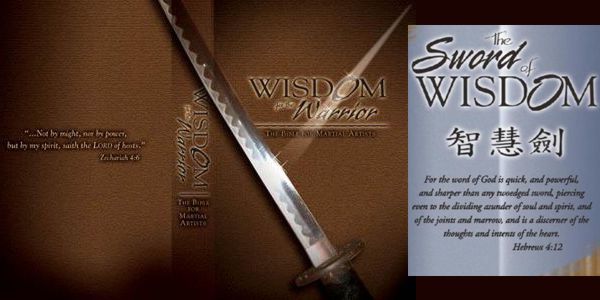 'Not by might nor by power, but by My Spirit,' Says the LORD of hosts. Zechariah 4: 6
It's here . . . the soft cover New International Version of the Bible with teaching, testimonies and devotionals by martial artists specifically for martial artists. This 4″ by 6″ Bible can easily be carried in your workout bag for Bible study or to use to share the Word with your fellow martial artists.
"Our desire is to get the Word of God into the hands of martial artists all over the world. Due to the world-wide economic down-turn, we are instituting new pricing. The Wisdom For The Warrior Bible was $15.00, it is now $12.50 per Bible, which includes shipping and handling within the United States. Please email for a quote for shipping the WFTW Bible outside the United States.
Many martial artists contributed to Wisdom For The Warrior including:
If you live within the Continental United States you can own your own copy of Wisdom For The Warrior by clicking on the Buy Now button below. You will be purcasing Wisdom For The Warrior through PayPal. You do not have to have a PayPal account and PayPal is safe, secure and easy! If you live outside the Continental US please email us to purchase and for shipping cost on your WFTW Bible! God Bless!
For more information about Wisdom For The Warrior:
Email Pastor Fran Pultro at WFTWBible@Gmail.com
Mail to: Wisdom For The Warrior PO Box 17804 Philadelphia, PA 19135