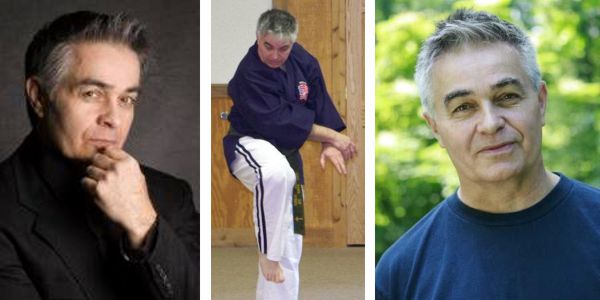 Fran Pultro is an actor, dancer, martial artist and pastor. He is the Senior Pastor at Calvary Chapel King's Highway in Philadelphia, Pennsylvania. He is a martial artist with more than 29 years of experience, and he has earned Black Belts in Jiu-jitsu, Tae Kwon Do, Keichu Do, and Kardo Jitsu-Ryu. Fran Pultro is a member of the Christian Black Belt Association, and the staff chaplain at St. Christopher's Hospital for Children. He has a Bachelor of Science Degree from Koinonia College and a Masters in Education from Temple University.
Chaplain Fran Pultro has been practicing the martial arts for over 29 years. He took his first martial arts class in Chuck Norris' school on Ventura Blvd in Sherman Oaks, California. A professional dancer at the time, he moved home, back to Pennsylvania, to raise his children, but he continued studying with the all Korean Muk Duk Kwan Association. "I stayed in that organization until I earned my 1st dan", says Pultro.
He moved into Philadelphia, which took him to another school, an ITF Tae Kwon Do school. He remained in the ITF until it was apparent that the particular instructor he was training with was less than honest. He studied with several reputable men of integrity who were from different disciplines, John Manneil in Kardo Jitsu Ryu, Karl Marx in Keichu Do, Bill Buckley in Tae Kwon Do and John Fetzer in Jiu-jitsu.
During this time he opened a commercial dojang teaching Tae Kwon Do and he became interested in the self-defense side of the arts and how to adapt it to life in the modern city of Philadelphia. He developed a Women's Personal Safety course for Temple University, which he taught at Temple from 1995 to 1999. Out of that he authored a text-book, Easy Steps of Self-Defense, McGraw-Hill, 1997.
Fran Pultro is now a 5th dan in both Tae Kwon Do and Keichu, a 2nd Dan in Jiu-jitsu, and an honorary 9th Dan in Kardo Jitsu-Ryu.
Because of his dance background, Fran became a good forms/kata competitor. He began to win tournaments in forms competition, and in 1997 placed 13th in the USKA World Championships in the Master's Division. That was the last year he competed. He was 46 years old at the time.
Due to the lack of integrity in the one ITF instructor he had, he determined to teach with the utmost integrity. His school is in one of the most drug-infested and crime-ridden neighborhoods of Philly. Most of his martial arts students could not afford to pay, so he took them for no charge, as otherwise they would not be able to study.
During this time Fran Pultro was pastoring his church. He saw some interesting parallels between the characteristics good martial arts instructors wish to instill in their students and those God wants to instill in us.
Pastor Pultro connected with the Christian Black Belt Association and began to develop a Bible directed specifically at martial artists called Wisdom For The Warrior. This soft cover New International Version of the Bible has teaching, testimonies and devotionals by martial artists specifically for martial artists. It is small enough to be carried in a workout bag for Bible study or to share the Word with your fellow martial artists.
Many martial artists contributed to Wisdom For The Warrior including:
To purchase a copy of Wisdom For The Warrior click here!
For more information about Fran Pultro and Philadelphia Academy Of Defensive Arts visit the school website at http://padaphilly.webs.com and the Philadelphia Academy Of Defensive Arts listing on the Martial Arts Schools and Businesses Directory using the image on the left.