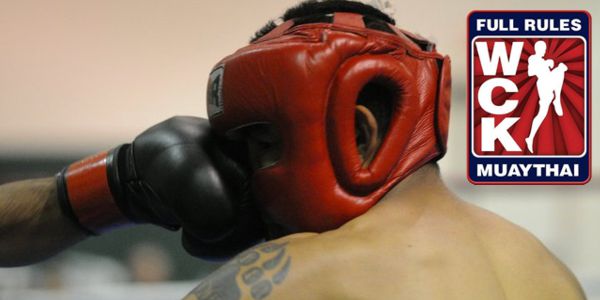 Bad To The Bone was the moniker used to promote the Pay-Per-View Muay Thai kickboxing event held June 1, 2002 in New Mexico. The Santa Ana Star Hotel Casino played host to a packed house and thousands of viewers as Dennis Warner and In Sync Productions put on a slug feast that brought the house down.
From first bell to the last round this event was one of the most exciting venues to come along in a long time. Each match offered something to cheer about culminating with a main event that left the standing room audience in stunned disbelief.
The first fight pitted Brian Delisser against Armando Ramos. Brandt squared off against Steve Milles with Brandt taking a 5 round decision. The fight was nip and tuck all the up to the last seconds of the last round when Brandt scored with a couple of nice kicks, giving him the edge and the victory.
The power of the knee brought a victory to James Martinez when he landed a vicious knee strike above the eye of Anthony Mora. The injury was so bad that Mora's corner tossed in the towel in round 2.
The fairer sex proved to be real pleasers as they squared off in a couple of bouts that had everything just short of a hair-pulling contest. The ladies came to rumble and rumble they did. Looking more like a fashion model than a kick boxer Angela Rivera squared off against the shorter Jackie "the Azteca Princess" in a scheduled 5 rounder. During the first two rounds Rivera held off the charging Nava with her long legs and jabs, but eventually Nava fought her way inside of Rivera's defense and landed some serious punches to Rivera's face. The score cards favored Nava in this action packed fight.
The next pair of women in the ring featured Holly Holm; this cute-as-a-bug fighter could have been a cover girl for Normal Rockwell. She was all smiles before the bell but once the fight got under way she destroyed her opponent Valerie Anthonson. Although Holm didn't show a lot of great technique she did show a lot of heart and simply overpowered Anthonson for an easy victory.
Another greatly anticipated fight pitted Baxter Humby against John Wayne Parr. Prior to the fight Humby, referring to his short arm said that the only handicap a person has is in their mind. Although he put up a great fight Parr proved too much for the talented and charismatic Humby as he lost by TKO.
The main event was the 2nd time a full Muay Thai rules match has been permitted and shown on TV. This fight brought the house down as Pajunsuk SKV took on Matee Jedeepitak in an IKKC World Jr. Welterweight Muay Thai Championship.
40 seconds into the 2ND round the fight mimicked a scene from the film, "Lethal Weapon." Ya' know how Mel Gibson's character (Riggs) always gets his shoulder knocked out of socket, then in a fit of rage he would slam his shoulder against a tree or wall snapping it back into place? Well that'' exactly what happened to Jedeepitak.
After missing with a punch Jedeepitak's shoulder came complexly out of its socket. There was a collective "gasp" in the arena when Jedeepitak's trainer "yanked" the bone back into place. Seconds later Jedeepitak was throwing more leather. But every time a punch would fly, his shoulder would come out of its socket. Instead of quitting the undaunted Thai fighter slammed his forearm against the top rope until his shoulder popped back into place and he did this while moving forward on the attack. This happened at least seven times until the fight was stopped for his own safety. It was an awesome display of courage that brought the capacity crowd to their feet.
"Bad To The Bone" also presented a fighter that has future world champion written all over him. Joshua Bendell took care of business fast. 39 seconds into round 1 Bendell proved to be a one man wrecking crew as he took out Jason Seip with a flurry of well placed and very powerful combinations of kicks and punches.
Rounding out the evening was the very vocal Heath "Cowboy" Harris fighting Steve McKinnon from the land down under. Cowboy talked a lot of trash before the fight saying he was going to put the Aussie down in the first round so he could get back to drinking a chasing girls.
Harris got a lesson in kickboxing and humility as McKinnon punished the cowboy's legs from the get-go with some very hard, very fast leg kicks and superior boxing skills. The Australian said he wanted to make a good showing for his debut in America and he did just that. Unable to mount any kind of an offence Harris called it quits in round 2 and limped off into the sunset.
Promoters Dennis Warner and Fight coordinator Bob Chaney said that the Santa Ana Star Casino was the perfect place for their event and had nothing but high praise for everyone from the hotel casino. Apparently the casino people were please too as they immediately inked a contract for another Muay Thai Pay Per View event this fall.