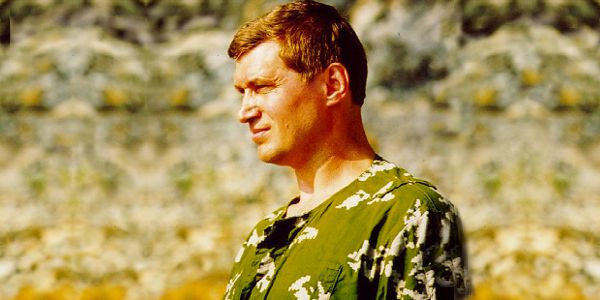 " . . . The life that belongs to each of us is our own and each of us defends it in our own way; one's own nature suggests how and for whom it can be done . . . " ~ Gen. Alexander I. Retuinskih
Grandmaster Alexander Retuinskih
Place of Birth: Dzerzinsk, Niznegorodskay oblast, Russia.

1971-1973 – Military service

1973-1976 – Worked at Chemical industrial plant.

1976-1982 – Student of Krasnodar College of Physical Culture and Sport

1982-1989 – Coach-trainer of Judo at Kubansky Agricultural College.

1989-1990 – Coach-trainer at Metrostroi sport complex in Moscow.

1991-Present – President of International and All-Russian Federation of Russian Martial Art
When Alexander Retuinskih was 7 years old, he begin learning gymnastics. At the age of 12  he began studying boxing, at 14, Sambo and Combat Sambo and at age 19, Judo and hand-to-hand fighting. He is a Master of Sport in Sambo and Judo and a champion of different competitions in Russia and the USSR.
In the 1980's, he began researching Russian Martial Arts and from 1982-1989  he was an Instructor of hand-to-hand combat for the police of Krasnodar and Krasnodarskay oblast.
Beginning in 1991, he was the organizer and leader of the International and All-Russian Training-Practical Seminars on RMA.
Beginning in 1993 he became Chairman of the Russian Combat Sambo Committee of the Russian Federation of Russia and Vice-Chairman of the International Combat Sambo Commission of FIAS (International Sambo Federation) and the General Director of the RETAL ( Russian Combat Skill Consultant Scientific & Practical Training Center).
In 1995 Alexander Retuinskih patented the ROSS Training System with 6 directions. The indicated method is determined as "Know-How" (registered with the State enterprise "Informpatent" Committee of the Russian Federation by patent and trademark of April 4, 1995)
Beginning in 1997 he became the Chief of the Department of Hand to Hand Combat for Cossack Military of Russia and abroad and of General Headquarters of Union of Cossack Military of Russia and abroad. He is ranked as a General of the Cossack Military.
In 1997 the Regent Council of Russian Noble Society, "New Elite of Russia", appropriated him the Noble Title of "Count".
In 1998, at St. Petersburg State Academy of Physical Culture, the Department of Fencing and Russian Martial Art was opened.
Now, Mr. Retuinskih writes dissertation at the Department of Hand-to-hand Combat of St. Petersburg Military College of Physical Culture. The Subject of the dissertation  is "Methodic 'ROSS' used in teaching".
In February of 2000 Alexander Retuinskih was awarded the highest award in sports, the "Honorable Coach of Russia".