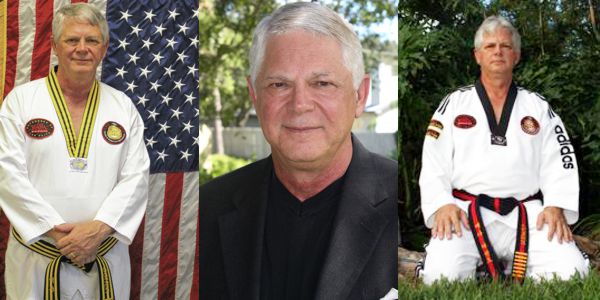 At the age of 19 (1968), Chuck Coker walked into his first DoJang, knees wobbly, not knowing what to expect. During the next half hour Senior Master Bill Beach (AJJF) explained that the feelings he was experiencing where not unnatural and that if you wanted to grow up as a man, you must face your fears "head on." He filled out the application and started class the next night. Over the next two years he accumulated bruises and abrasions to every part of his body and ego. However, he also accumulated confidence in more than just his physical abilities – he achieved a sense of confidence that came with the new found knowledge.
After two years of Jujitsu, he began additional studies in Ving Tsun Kung Fu focusing on its upper body and hand techniques. Two years later Coker completed Officer's school in the USMC and joined their martial arts team. He was exposed to three different styles of fighting and multiple competitions. For the next few years he enjoyed representing the Marine Corps in different tournament settings with a wide variety of rules and competitors.
After the Vietnam conflict ended Chuck Coker returned to Jacksonville, Florida and met a new PE teacher at Jacksonville University by the name of John Woong Chung. He was a 7th Dan Ji Do Kwan Grandmaster in Tae Kwon Do and reminded him of some of the combat hardened veterans he had served with while in the Marine Corps. With that meeting came one of his life's greatest obsessions.
Grandmaster Chung taught him that there is always something more inside us, than what we believe we can accomplish. He taught him that you can be better than you think you are and that the only limitations were the ones placed on oneself. That inner strength and confidence was needed when Chuck's wife died in December of 1982, six months after he won the AAU National Championship and six months before he was to win the International Open Championships.
1983 was a pivotal year and many changes occurred. After completing Seminary, he discovered that the things we learn in life are not just for ourselves, but should be shared with others. Soon, he and his brother (Master James R. Coker 7th Dan) closed their commercial schools and founded a non-profit to teach martial arts free of month to month charges to those who could not afford it. Since both were Kukkiwon certified they were an anomaly in the rapidly growing martial arts business community.
Over the last 26 years Chuck became committed to expanding his network of "paying it forward" schools throughout Florida and the Southeast. By the end of this 2009 there will be 20 locations in four states with momentum building. He states that "I do not know of another thing I would rather do than make sure that every person in our country (possibly others) who wants to learn the Olympic Sport of Tae Kwon Do has that chance – regardless of where they come from, who their parents are, or what their financial means are."
Chuck believes that our country prides itself on freedom, yet some things that could have the greatest impact on an individual's life are NOT FREE! He believes each of us has been placed in this space and time to help make the world a better place through faith in God and the tenants of Tae Kwon Do. As those two things happen others will develop the kind of character which makes our society a better place to live.
Dr. Charles Coker is a 7th Degree Grandmaster who holds Dan grade certifications from the USA Tae Kwon Do Association, Korean Ji Do Kwan Association, World Ko Am Mu Do Federation and Kukkiwon. He serves on multiple boards including the US Olympic Martial Arts Commission with USAT. He was an active competitor retiring in 1983 ranked 2nd (in his division) internationally by Black Belt Magazine.
Listed below are a few of his organization's accomplishments in the past 3 years:
From 2006 – 2009 Yeshá has trained 64 USAT, AAU National and Jr. Olympic Medalists.
Grandmaster Coker is a 2009 inductee into The Master's Hall of Fame.
US Senator Mel Martinez recognizes Grandmaster Coker and Yeshá for their contributions to the community and citizens of the state of Florida.
Florida Congressman Lake Ray recognizes Yeshá for their contributions to the NE Florida community and state of Florida.
The Mayor of Jacksonville and its City Council issue a proclamation recognizing Yeshá (February 12, 2008) for 25 years of service to the First Coast Community.
In 2008 Yeshá was recognized as "Community Service Group of the Year" by the Daniel Memorial Foundation.
International recognition has come from as far as Seoul, Korea (Tae Kwon Do Ji Do Kwan Korea) for our work with children.
Tae Kwon Do Times recognizes Yeshá for its contributions to the Olympic Sport of Tae Kwon Do.
Dr. Charles Coker's Professional Biography
For more information about Chuck Coker and Yesha Ministries Taekwondo visit their listing on the Martial Arts Schools and Businesses Directory by clicking on the image on the left.
---