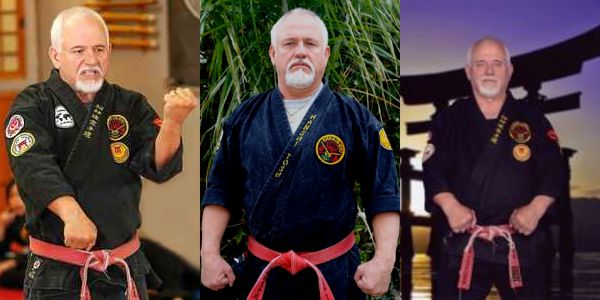 Grandmaster Dan Tosh has been training in shorin-ryu karate since 1958. He began his studies at the Coffeyville, Kansas Boys Club, continued his training in Oklahoma and finally California in 1967 under the direction of Sensei Joe Spriggs. In 1966, Tosh was promoted to Shodan (1st degree blackbelt).
In 1970, Dan Tosh persuaded Grandmaster Musashi Miyagi to become his teacher and mentor in Hawaii. In 1974, Tosh returned to California, and at the request of his teacher, put on a white belt and trained in a shorin-ryu school taught by Sensei Ed Perkins under Eizo Shimabukuru. At the end of six months, Perkins promoted Tosh to blackbelt. Hearing that Tosh complied with grandmaster's wishes, he was promoted to 5th degree blackbelt in 1976 by Grandmaster Miyagi. To wear a white belt after having been a blackbelt, as it turns out, was a test of humility.
In 1976, Dan Tosh was promoted to Godan (5th degree blackbelt). In 1987 he was promoted to 7th degree blackbelt and in 1998 to 9th degree blackbelt by Professor Sig Kufferath, 10th degree blackbelt and friend of Miyagi from Hawaii. Sid Campbell, a shorin-ryu master, was a board member and authenticated the quality of Tosh's kata and technique. It was long ago decided by Miyagi, that on the celebration of Tosh's 40 years in shorinryu, he was to become Hanshi or Soke; the official grandmaster of this interpretation of shorin-ryu.
On January 13, 2007 at the WOSKKA annual gathering, Dan Tosh was promoted to 10th degree blackbelt by the black belt council chaired by Great Grandmaster Al Novak. This honor was bestowed on Dan Tosh in the presence of several Great Grandmasters and Grandmasters including such dignitaries as Bob Wall, Sid Campbell, Al Novak, Carlos Navarro, Eric Lee, Bob Maschmeier, Ernie Reyes, Sr., Tony Thompson, Harry Mok, John Oliver, Gary Lee, Mark Gerry, Greglon Lee and Max Pallen. Grandmaster Dan Tosh is known for his incredible speed of both hand and foot. He is an authority in tuite and kata application. Dan Tosh has been involved in choreography, movie production, stunt work, workshops and tournament competition for many years.