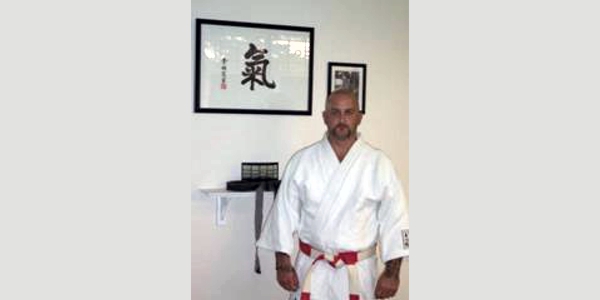 Hanshi Duke Swain began his training in Isshin Ryu Karate in the early 1970's under the direction of Grandmaster Castanza. Several years later, he began the study of Goshin Jitsu & Judo also under the direction of Grandmaster Castanza and Sensei Gabriel.
In 1984, Hanshi Duke Swain joined the United States Marines Corps where he served for many years and received an Honorable Discharge. While stationed in Japan Hanshi was introduced to Master Osoto, a great Chi Gung Healer and martial artist. A few years later he returned to Japan to train with and study under Master Osoto. Hanshi was quickly taken under the Master's wing and this eventually became his home.
Since then Hanshi Duke Swain has trained with many national and international martial artists and healers in such styles as Jiu Jitsu, Judo, Chin Na, Modern Arnis, Kung Fu, Mixed Martial Arts, Baguazhang, Aikido, Chi Gung, Tai Chi, Massage, Traditional Chinese Medicine, sports nutrition and health. He has received rank or a Black Belt in: Jiu Jitsu, Judo, Arnis, Kung Fu, Mixed Martial Arts, Chin Na, Chi Gung, Massage, and Traditional Chinese Medicine (TCM).
Hanshi Duke Swain has researched the restorative healing powers of (Dayan) Wild Goose Breathing Chi Gung, an internal style of Chi Gung. Wild Goose Breathing has been dated back more than a thousand years and has been known to cure such diseases as cancer, HIV and Aids, polio, arthritis, asthma and many more.
Hanshi Duke Swain was the owner of and Chief Instructor at Zenshin Healing and Martial Arts.
Hanshi Duke Swain continues to travel throughout the United States and abroad seeking fellow martial artists and healers to train and learn from.
Inducted into the 2008 Martial Arts Hall Of Fame as "Healing Arts Master"
Inducted into the 2007 Martial Arts Hall Of Fame as "Founder"
Kudan 9th Degree Black Belt "SOKE" Zenshin goshin Jiu Jitsu
Shichidan 7th Degree Black Belt Goshin Jiu jitsu
Godan 5th Degree Black Belt Zen Sekai Jujitsu
Nidan 2nd Degree Black Belt Judo
Sixth Level 2nd Degree Black Belt Chin Na
Fifth Level 1st Degree Black Belt Modern Arnis
Black Sash 1st Degree Black Belt Kung Fu
MMA / NHB 20 plus years
Chi Gung ~ 25 plus years – Internal (Nei Dan)
Founder of M.A.L.E.T.S – Martial Arts Law Enforcement Training Seminars
Founder of T.C.S.D Take Control Self defense
Founder of Zen Shin Healing & Martial Arts
Member American Judo & Jujitsu Federation
Member International Martial Arts Council Of America
Member National Goshin Jitsu Association ~ (Lifetime)
Member Norwegian Jujitsu Association ~ (Lifetime)
Member YMAA ~ (Yang Martial Arts Association)
Member International Chi Gung Association.
Certified Asian Massage Therapist ~ (CAMT)
Dr. of Traditional Chinese Medicine ~ (TCM)
Panamanian Judo Champion
All Japan Jujitsu Champion
All Norwegian Jujitsu Champion
Lifetime competition record 212-17-0
Certified Black Belt Rank Examiner ~ (Senior level)
Instructor of the year
Military Special Forces Close Combat Instructor
Law Enforcement Hand To Hand Combat Instructor
Teaching Zen Shin Healing & Martial Arts