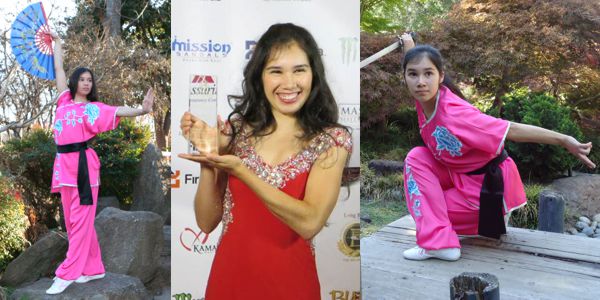 Monique Magallanes was born on April 21, 1992 in Fremont California, which is the same city she resides today. Monique is a 3rd degree black belt in the International Wushu Sanshou Dao Association, World and National Champion Martial Artist, actress, model, stage performer, martial arts instructor, Personal Trainer, and Gymnastics coach. In 2006, Monique was one the original "Best of the Best" Martial Arts Champions from Disney Wide World of Sports, and was on the "Tiger Claw Elite" demo team. In 2012 Monique was honored to perform in front of Bruce Lee's "Enter the Dragon" living cast (Jim Kelly, Bolo Yeung, Bob Wall, and John Saxon) and Martial Arts Superstars at the All-Pro Tae Kwon Do Hall of Fame Award Ceremony. She was inducted into the National Black Belt League Hall of Fame in 2010. She was also awarded the Leadership Award and inducted into the Master's Hall of Fame in 2014, and was a VIP guest at the All-Pro Tae Kwon Do Hall of Fame in both 2014 and 2016. Monique was the Co-Captain of the World Champion Martial Arts Competition Team "Team International" and member of the World Champion Martial Arts "Magallanes Family."
Life
Monique was raised in a loving, fair, and welcoming environment nurtured by her loving parents. Shortly after starting kindergarten, the kids at her school were playing too rough with her, something that she was not used to, which made her scared and cry. This brought great concern to her parents, which led her on her martial arts journey.
Martial Arts
At the age of 5, Monique's father, (Anthony Magallanes Sr.), began training her, along with her brother (Anthony Magallanes Jr.), and sister (Jasmine Magallanes), in the martial arts. Initially her mother, Linda Magallanes, did not want her father to teach them martial arts because she feared their children would use the martial arts to fight against one another. When Monique's kindergarten incident took place, her parents decided to teach their children martial arts so they could learn how to defend themselves if the need arose. Monique's father began training her along with her siblings in the martial arts. He did not only teach his children the training aspects of the martial arts, but he also taught them about the philosophy and the life's lessons that the martial arts offers. This changed Monique's life and the lives of her family forever.
Monique's father had trained in a number of different martial arts styles and taught his children about life through their martial arts experience. Her father worked on developing their minds for it was always her parent's number one goal and priority to raise good people first and everything else second. Her father taught them through explanation and example, many core principles such as honor, humility, respect and integrity, hard work and dedication. He taught that a person can accomplish anything you put your mind to, and that people should always be as well rounded as possible.
With this in mind, at the age of 9, Monique and her siblings were enrolled in a Traditional Kung Fu school where her father had once trained. Monique and her siblings excelled in their training and with their weekday training at the martial arts school and weekend training at home with her dad, they were ready to enter their first tournament. Monique placed 1st, while her sister placed 2nd, and her brother placed 3rd. Monique's trophy was taller than her!
Because of a childhood burn accident her sister, Jasmine, required surgery, so the sparring of the traditional school needed to be suspended for a while. Instead of stopping their weekday training all together, Monique's father decided to switch schools and put Monique and her brother and sister in a contemporary Kung Fu school to learn Wushu and focus on their athletic ability and mastering weapons for awhile. As before, Monique and her siblings excelled quickly and proved to be worthy of being taught by the head trainers and Shaolin monks from China.
Over the next number of years, Monique and her siblings would have the honor of training under many extremely skilled martial arts masters in many martial arts styles such as Krav Maga, Muay Thai Kickboxing, Kajukenbo and Kenpo Karate to name a few.
Before tournaments and performances, Monique and her siblings relied on their father to prepare them for competition. He had always strongly emphasized being as well rounded as possible, and he would help them bring back everything that Monique and her siblings had learned and put it all together in a way that nobody had seen before. This philosophy yielded Monique numerous honors, awards, along with 4 National and 9 World Champion Titles.
Achievements:
Member of the World Champion Martial Arts "Magallanes Family"
Featured in newspapers, magazines, commercials and T.V. spots
2006 Women's Classical Champion from the U.S. Wushu Union
2006 Original "Best of the Best" Disney Wide World of Sports Tiger Claw Elite Grand Champion
Performances at Disney, Great America, and across the country
2006 Tiger Claw Elite grand champion demo team member
2008 Charity performance to raise money for earthquake victims in Sichuan, China raising over $70,000
2008 – 2010 Won multiple World Championships in the NBL (National Black Belt League).
2010 National Black Belt League Hall of Fame
Co-Caption of World Champion Martial Arts team "Team International"
2011 Performed with "Team International" at Master Mark Gerry's Celebrity Roast
2012 Performed in front of the Legendary cast of Bruce Lee's iconic film "Enter the Dragon" and Martial Arts Superstars at the All-Pro Tae Kwon Do Hall of Fame
2014 Inducted into the Masters Hall of Fame receiving the Leadership Award
2014 and 2016 VIP attendee at the All-Pro Tae Kwon Do Hall of Fame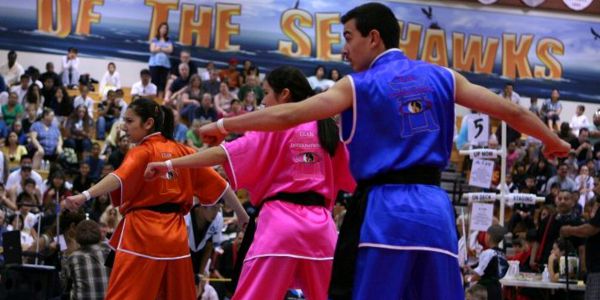 In 2010 the Magallanes Family won so often, with only three competing members (Monique, Jasmine and Anthony Jr.), that their home school (Eagle Strike) was recognized and awarded as one of the top 10 Sports Karate Schools in the World by the National Blackbelt League.
Monique, Jasmine, and Anthony Jr. are in a small and unique group, only a hand full of Martial Artist, that have been successful in both the Traditional and Contemporary Kung Fu/Wushu Tournament World and the open Karate/Tae Kwon Do tournament World such as Disney World/Tiger Claw and the National Blackbelt League (NBL). These groups do not commonly mix and the Masters and Martial Artist in one group do not commonly know the Masters and Martial Artist in the other group. Monique, Jasmine, and Anthony Jr. are some of those very few and unique martial artist that have been awarded and can walk into any of these worlds and be recognized and acknowledged by the top Masters in both groups.
Outside the Martial Arts
Monique had the great opportunity to explore the acting world under the direction of T.V. and Movie Legend James Hong and his daughter April Hong. Monique has also modeled for martial arts magazines and was the former modeling face of Lollypopmedia.com. She graduated college with Honors and obtained her degree in Physical Education. She is now perusing her Master's Degree in Occupational Therapy. She is a Certified Personal Trainer, she has taught and created Group Exercise classes, and is a Gymnastics Coach for High School students. Working through hardship and with her excellent work ethic, she is always seen in a positive light.
www.eaglestrikenow.com
www.youtube.com/user/born2ridewild
www.youtube.com/user/3ways2power
www.eastbaytimes.com/2008/09/17/steward-some-artful-dogers
www.usadojo.com/sma-honors/team-i/monique-magallanes.htm
www.lollypopmedia.com/martialarts/monique.html
www.tigerclawelite.com/2006GrandChampions.html
www.facebook.com/monique.magallanes.3