Chief Master Thomas Gordon's Korean Martial Arts Festival 2019 is a far cry from recent news, having just celebrated its 13th year last April in Crestview, Florida. His unique approach to a mixed bag of seminars from the best of the best in the Korean martial arts world (and beyond) has gained praise from USAdojo.com, Taekwondo Times, Black Belt and Official Karate magazines!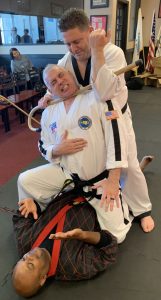 As he tries to outdo himself every year he had to go above and beyond for the Korean Martial Arts Festival 2019.
First, he brought a famous Hapkido grandmaster, Han Jung-Doo. His unique point was a healing martial art called Hapki-zen designed to heal the wear and tear the martial artist does to himself over time, so in essence ensuring the warrior can truly train all his life.
Second, he brought a professional Taekgyeon demonstration team from South Korea. Taekgyeon is perhaps the ancestral father of all unarmed combat in the Korean peninsula. It features high and low kicks, sweeps, throws, pushes, pulls and hooking techniques to form a formidable fighting system useful to the day!
Lastly, at the Korean Martial Arts Festival 2019 he held a Super Hero Gala promoting the idea that "Every martial arts instructor should be a super hero." This not meaning a glory hog or a showboat with power, but rather, someone who is selfless and uses his heart and his skills to help others. With this idea in mind, Gordon followed the trend set by Marvel and DC super hero movies and had a dress-up night and auction with 100 percent of the proceeds going a Parkinson's charity and to the Korean Martial Arts Hall of Fame, who try to subsidize martial arts classes for underprivileged youth.
The line-up of grandmasters, masters and instructors this year included:
Next year's event will be April 26-28, 2020. Interested parties can call 850-682-0720 or go to KMAF.
The Korean Martial Arts Festival was a great event. It was a harmonious atmosphere where everyone was eager to exchange their techniques and respect each other as martial artists. As a Korean, I was very happy to see many foreign master's study Korean martial arts so hard and try to help people's health and lives.
I taught a training curriculum that was based around the length of time they had been training. With that in mind they were divided into groups.
It was a worthwhile event that suggested them to try in my Korean martial arts disciplines (Moo-Sool, Moo-Do, Moo-Sun) for extending their lives. I wish true happiness to all those I had the honor to meet at the festival. ~ GM Jung-Doo Han
It was an awesome event. I'd like to say special thanks to GM Thomas Gordon, his wife Barbara Gordon and his loyal crew, without their countless effort I don't think we had an opportunity to enjoy this awesome event. ~ GM Inwan Kim
The Korean Martial Arts festival is one of the best annual events I have had an honor to participate in. The atmosphere and comradery are both welcoming and professional. Some of the most talented Korean martial arts masters in the world not only come to present but also participate in the weekend activities. Even the most skeptical participant walks away with an increased understanding of martial arts and eagerly comes back for more. Chief Master Thomas Gordon continually hosts a banner event that is worth planning for and attending every year. ~ GM Kevin Janisse