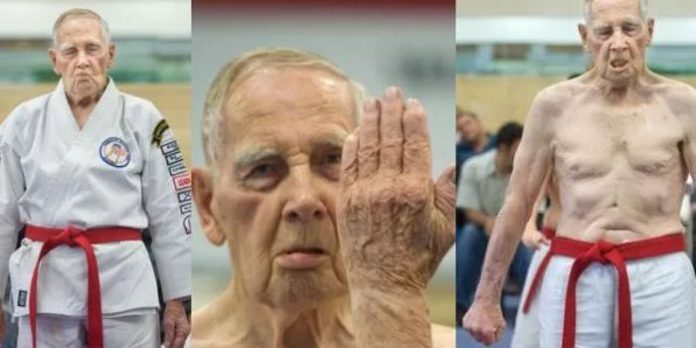 When Chuck Geitner moved to Fullerton from Wisconsin in 2010, he decided to take up karate for the first time. On Saturday – less than five years later – he tested for and received his black belt.
It's a significant achievement, made all the more special given that Chuck Geitner is 85 – and he could barely walk or stand on his own when he started.
"His techniques are strong," said Brad Wenneberg, a shihan – "teacher of teachers" – at the American Martial Arts Academy in Fullerton. "His body's strong. When he first came in, he couldn't really stand on two feet so I had to have a student on either side of him. And now he's on his own."
And Chuck Geitner doesn't plan to quit anytime soon. When it comes to his karate training, he subscribes to the mantra of Frank Sinatra's 1954 classic, "Young at Heart."
"There's a line in there," Geitner said, "'Look at all you will have survived if you happen to live to be 105.' … And then it ends with 'It's for the young at heart.' Well, I consider that I'm young at heart. I just enjoy it, and I'm just in better health all the way around."
Chuck Geitner grew up the youngest of eight children in a small town in Illinois. He served in the Korean War and was the only one of his siblings to attend college.
He went on to become a high school teacher, instructing history and social studies at a handful of schools in Illinois for 40 years. Later, he worked as a private tutor.
One of his biggest achievements was coordinating the Veterans Oral History project, guiding high school students in interviewing veterans about their experiences. Those interviews are now cataloged in the Library of Congress' American Folklore Life Center database.
But after nearly 50 years of teaching, Chuck Geitner, who now lives in Fullerton, acknowledged that receiving his black belt has offered him an entirely different and rewarding experience.
"There's one (student) who is 9 years old," he said. "That's 76 years younger than I am. It's quite something. I follow the idea that I can always learn. As a teacher, I found out that I had a heck of a lot to learn."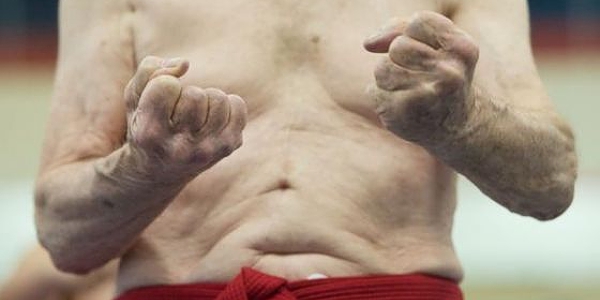 Geitner used to have difficulty standing and walking, the result of a spinal surgery that weakened his right leg. Now, his leg is strong enough to walk with just a slight limp.
Since he arrived at the Fullerton studio, he's made a big impression on the faculty.
"I've never met a man more humble and teachable than Chuck," Wenneberg said. "This man came in and he emptied his cup and said, 'Teach me … shihan, sensei, show me how it's done.'"
Chuck Geitner was one of 20 students who tested Saturday for their black belts, the culmination of years of practice and five months of rigorous training in the studio's red-belt academy.
Part of his kata – a choreographed performance of defense movements – was modified for his leg because he can't do a full kick.
"It has helped seeing the different perspectives of people of all ages," said Aidan Arnold, 10, in an email to the Register. "Chuck has taught the academy that no matter what anybody else says, you can always accomplish your goals, if you set your mind to it."
Ultimately, it's Wenneberg who determines whether someone passes the test to receive a black belt. He had no doubt that Geitner had met the requirements – gaining heart, strength, wisdom and courage.
Chuck Geitner likened getting his Black Belt to rungs of a ladder. His next goal is to earn his first black-belt stripe.
"I want to at least do that until I'm 105, just to satisfy my desire to fulfill the line in that song," he said.
Those lyrics will motivate him to continue training five days a week, every week.
"I don't see any reason that I won't be able to do that when I reach those ages," Geitner said. "It keeps me young."
By Matt Hanlon / Staff Writer – Orange County