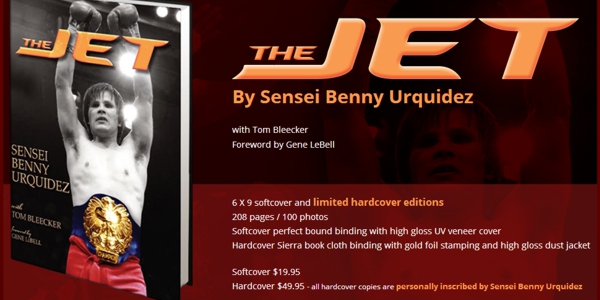 Proclaimed by Chuck Norris to be the greatest pound-for-pound kickboxer of all time, Benny Urquidez was nicknamed "The Jet" because of his explosive spinning back kick. After competing for ten years in non-contact point karate, he pioneered full-contact fighting throughout the world, often fighting in bouts where the rules were ambiguous and contrasts in styles were dramatic.
In the 1970s, he won the PKA and WKA World Kickboxing Championships, and then went on to defeat Japan's World Champion. Highlighting his stellar career that spanned two decades, Urquidez came out of semi-retirement at the age of 42 to seal his legendary status by defeating Japan's 25-year-old reigning World Champion. Victorious in six World Championships in five different weight divisions, Benny "The Jet" Urquidez has remained undefeated for 27 years as the longest reigning World Champion ever.
Unofficially retired from professional kickboxing in 1995, Sensei Benny Urquidez continues to teach martial arts at the Team Karate Centers in Woodland Hills, California, regularly works in the Hollywood film industry as an actor and fight choreographer, and travels the world with his wife Sara Eaglewoman as a spiritual teacher.
The Jet by Sensei Benny Urquidez with Tom Bleecker has a great forward by Gene Lebell. The Jet, by Sensei Benny Urquidez comes in both a soft edition (6 X 9) and a limited hardcover edition (6 X 9). There are 208 pages  and a 100 photos. The Softcover edition is perfect bound binding with high gloss UV veneer cover. The Hardcover is Sierra book cloth binding with gold foil stamping and a high gloss dust jacket. The Softcover edition is only $19.95 and the Hardcover edition is $49.95 and all hardcover copies are personally inscribed by Sensei Benny Urquidez.
What People Are Saying About Benny and His Book:
It has been a tremendous pleasure and honor to have been part of the team that has made the publication of THE JET a reality. I have no doubt that the content of this book will enrich the lives of countless thousands throughout the world. With great admiration and respect for Benny Urquidez. Tom Bleecker
The Urquidez contribution to the world of martial arts is inestimable. MMA fighters today should be very thankful they don't have to deal with Benny. Get ready for a walloping good story… David Lee Roth
Benny "The Jet" is a gentleman with a fighter's heart. During the time of full contact fighting, he was the name that drew in the crowd. No one before or after can compare. When you hear his name, no matter where in the world you are, it is the one and only "Benny the Jet."  Mark Dacascos
In the US, the martial arts industry began with a small group of superstars. Some produced phenomenal students; some wound up in the film industry; some created large systems; and some became legendary fighters. Mr. Urquidez accomplished all of these things.
Ed Parker, Jr., Paxtial Arts Founder
Benny Urquidez is the greatest full contact karate fighter in martial arts history. He kept the art alive for decades and paved the way for today's mixed martial arts fighters. His pioneering accomplishments make him one of the most historic figures of our generation. Michael Matsuda, President Martial Arts History Museum
Benny 'The Jet' has secured a well-earned reputation as one of the greatest kickboxers of all time. I have been lucky to have received countless lifelong lessons from this extraordinary man. Stephen Quadros, "The Fight Professor"
Benny Urquidez had no peers in the early days of world class kickboxing. He always personified for me the best of what martial arts stars should be—deadly, humble, and inspiring. In my encyclopedia of martial artists, he will always be at the top with the best of the best. Joe Corley, CEO PKA Warriors
Benny Urquidez is a true martial arts warrior. He is not only an exceptional martial artist but he has the biggest and kindest heart of anyone I've met. It is a blessing to have Benny as a friend. We love you Benny! Cynthia Rothrock
Sensei Benny Urquidez is a gentleman and a true martial artist. His strength lies in his humility and his willingness to share his knowledge with others, regardless of style or creed. He will remain as one of the greatest fighter and contributors to the martial arts world. Phillip Rhee
Benny Urquidez is the nicest guy you will ever meet. Humble to a fault, honest, open, caring, talented, highly skilled, a great teacher and communicator. I'm proud to be his friend. Mike Stone
Sensei Benny "The Jet" Urquidez is a teacher, philosopher, warrior, champion, and role model. He has been a profound influence in my fight career and my life, and I am honored to have trained and studied under both him and his legendary brothers and sister, Lilly.
Peter "Sugarfoot" Cunningham
Many fighters brag about their victories, but Benny Urquidez is so well respected that people brag about being in the ring with him, and being defeated by him. He is a legend. He exemplifies class and the warrior spirit, and I am proud to call him my friend.
Bob White
One of the most remarkable and loving people I have ever met—an inspiration to everyone he touches. John Cusack
Benny Urquidez is arguably the most famous full contact fighter who ever lived. The martial arts world would not be where it is today had there never been Benny 'The Jet' Urquidez. I am proud to say that he is a friend. Steve Sexton
Master Benny has deeply inspired me. Many professional fighters become and stay fighters, but Master Benny has evolved into a master teacher of the physical and spiritual aspects of the martial arts. Tom Callos
Benny 'The Jet' was a champion in point fight tournaments, but when he transitioned to full contact karate, he became a super champion and the first martial arts fighter to be an international celebrity. Pat Worley
Sensei Benny's story captivates as much as it inspires. Lightning speed and fierce grace in the ring made him a legend; but his kindness and generosity in his life and with his students are what I most admire about him. I am extremely fortunate to be able to have him in my life. Sensei Fariborz
I consider Sensei Benny Urquidez an icon in the martial arts world and a true warrior in the ring! He is a compassionate and patient teacher of fundamentals on the mat and a humble gentleman off the mat. Mike Swain, 4 x Judo Olympian
Benny Urquidez: A Gentleman, a Gentle Man, and the fiercest competitor I've ever had the pleasure to watch in combat. He is an inspiration to all who don a gi.
Senior Grand Master Chuck Sullivan, IKCA Kenpo
Sensei Ben has been my role model ever since I first met him because he talks the talk and walks the walk. Sensei Benny has shown me what it is to be a Martial Arts Warrior, not just on the mat, but in life, epitomizing the ancient warrior code of Bushido in everything he does. Richard Norton
The easiest way to describe my admiration and respect for Benny would be to say that I would hope to emulate him in every way as a champion. He is a true warrior, martial artist, and teacher. I treasure every moment with Benny. Don "The Dragon" Wilson
In my estimation, Benny is probably the best fighter to have come from the United States, maybe even the entire world. He fought under all rules and was fearless in his movement. He is a great friend and I cherish his friendship and am very jealous of his abilities.
Bill Superfoot Wallace
Thank you, Benny, for being a shining example of dedication and heart. You have made a difference in many generations of martial artists and you will continue to do so forever through "The Jet"!!! Dana L. Stamos, Martial Arts Enterprises
---