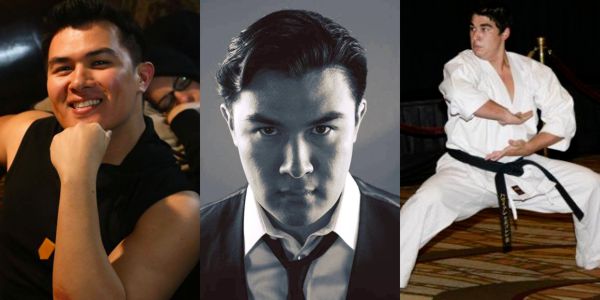 Texas State Amateur Organization of Karate Champion Twice
Texas Karate Organization State Champion
Texas National Tour Champion
National Black Belt League Champion
2nd Dan, Okinawan Shorin Ryu Karate
3rd Dan, Hawaiian Kenpo Karate
Senior Instructor
Garett Lee was born into Karate though his father who was a national competitor for over forty years. He has been competing on the state level and national level for fifteen years and has achieved a reputation that has been impressive to his peers and fellow Black Belts.
He was the youngest competitor to be on the National Sherman Oak Raiders Black Belt Team at age eight, then Hawiirock productions picked him up on a national level also. In 1997 when Wade Kirkpatrick and Gary Lee won the Golden Greek Award (Texas Sport Karate MVP Award) Garett was beside them at most of the events. Then as a junior Black Belt in State and National competition, he won Texas State Championships and a World Championship for Universal's Black Belt Hall of Fame Tournament.
Testing at a young age in 1999, way before children were looked at Black Belt quality, he was tested alone for three and half hours in front sport karate legends Allen Steen, Al Garza, Royce Young, James Toney, Dan Anderson, Jimmy Tabares, Ed Daniel, Miriam Kirby, Glenn C.Wilson, Chris Gallio, Scott Holman, Joe Poindexter, Joesph Pruiett, , Zulfi Amed, Perry Smith Ishmael Robles, Pablo Mejia, Stacy Mejia, Tim Kirby, Jim Harrison, Richard Jenkins, George Minshew, Jim Butin, Ronnie Al, Matshibushi Ward, and slew of others, and his father ran the test. It looked brutal and and cruel to the non martial artist watching, but Garett Lee did well and there is no doubt that he earned his rank.
Garett's school principal said, "it was the hardest thing he has ever seen a child go though, incredible!"
Garett's most important wins in national level competition are 1st Place US Open, Florida, 1st Place Battle of Atlanta, Atlanta Georgia, 1st Place United States Championships, Dallas, Texas, TKO State Champion, Houston, Texas and Texas State Champion, many times.
Garett Lee excels in Japanese Kata winning many Grand Championships also. He now represents the PKKA National Team, Team Century Fitness and America's Best National Karate Team.
He teaches private lessons to many of the Texas State competitors and is a sought after instructor in seminars around the State.
Garett Lee is ranked #10 in Top Texas Ten Black Belt Ratings.
Here's what people say about Garett "The Comebackid" Lee:
Twelve out sixteen Black Belt Scouts voted this seventeen year old Karate kid into the ratings last year and the reason why
"He can hit you with unnatural speed and has a tendency to do better when he 's losing by making spectacular come backs!"
He has a tremendous blitz and is faster than your normal heavyweight and he doesn't mind banging, if need be, hit's hard and fast!
"Very accurate with his kicks and is a master of the set up in your face before you blink move , lol"
Here are some reasons why:
1st Place Battle of Atlanta, PKC Texas Team, 1st Place, Back Alley Bash runner up 4 times, Won 12 events in a row!
U S .Championships 1st Place , U S. Open 1st Place ranked Number one in fighting AOK, PKC (Texas region) and NBL for the year 2009.
2010, AOK State Champion, TKO State Champion,Grand Champion,1s Place NBL Conference event,
Back Alley Bash Champion, 2009
Grand Champion Art of War, 2010
Garett Lee earns his Second Degree Black Belt at Bushiban Headquarters
Garett Lee earned his Nidan in Shorin-Ryu Japanese Karate which was presented by his Bushiban Family and Godfathers Dr. Maung Gyi and Matshibushi Ward (Mabo) and his father Professor Gary Lee.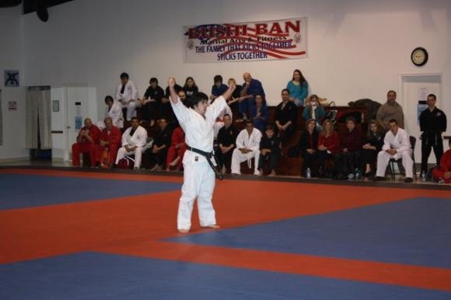 Photo By Morten Hagland Hansen, ZDK
It had been ten years since Garrett Lee's last black belt test in front of a legendary board, at eight years old. it all seems surreal, but after ten years of in your face fighting and kata, wins at The Battle of Atlanta, five Texas State titles, and PKC and AOK number one fighting seed and U S Open and U S Championships, Garett had the opportunity to prove his abilities and love for true karate do. Garrett's mentor Grand Master Zulfi Amed gave him a birthday present he will always remember!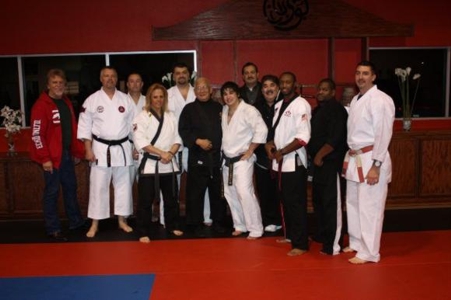 Photo By Morten Hagland Hansen, ZDK
In this photo: Daryl K. Stewart, Mark Campbell, David Dobbs, Andrea Davidson
Eric Loveless, Dr.Maung Gyi, Garett Lee, James Clark, Professor Gary Lee
Jason Holmes, Dona Pettway, Wade Kirkpatrick.
Other Board Members pictured were Steve Selby, Matshibushi Ward, head of Japanese-Okinawan Federation, , Steve Selby, Termite Watkins, Texas Legend Olympic Boxing Coach, Master Kiyoshi Nishime, Grand Master Zulfi Almed, Becky and Roger Bornstein, Tandy Robinson, Brakke Jull, Dr. Lance Hoover, Nishime -son, Ricardo Liborio, American Top Team Coach.
The Super fight.three rounds of Texas Karate, Texas Rules. Chris Gallio fights Garett Lee.
2011 Season 1st Place wins at D E Chambers, Linda Denley's, TKO Nationals, Jason Holmes NBL event , Three Grand Championship appearances
Number one rated National Black Belt League fighter Cowboy Conference.
Garett is making Texas proud and he enjoys sport karate, he has a old time attitude with a updated flare to conform to any fight situation , he works hard and likes to win ,he is a fighter to watch!