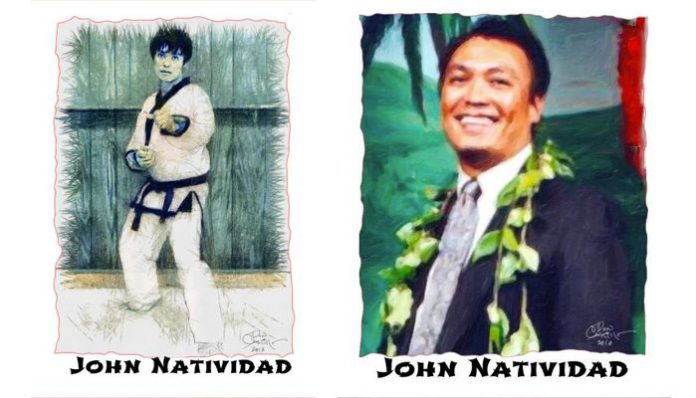 We're excited about the John Natividad Living Legends Celebrity Roast brought to you by Professor Gary Lee and the Sport Karate Museum. The celebration is also a reunion with many of the top Sports Karate Heroes celebrating the life of John Natividad "The Giant Killer" who one of the living legends of  sport karate. The event includes a Hawaiian banquet, the History Generals of Sports Karate Summit with special celebrity guest speakers, autograph sessions, and The Professional Maximizer Awards.
John Natividad Living Legends Celebrity Roast
When: Nov 1, 2019 at 11:00AM and Nov 2, 2019 at 9:00PM
Where: Samstown Casino at 5111 Boulder Hwy, Las Vegas, Nevada 89122.
For special rates on hotel rooms use the CODE Living Legends Room Block A9KA11
First 100 people at the History Generals Summit receive a FREE movie from Professor Gary Lee and Don Warrener
John Natividad was one of Chuck Norris' top fighters and he was featured in the film New Gladiators (1973) about the Golden years of sport karate. This was before the popular use of protective gear. The individuals in this film were the best of the best in those early years. New Gladiators (1973) was financed by Elvis Presley, and it was found, restored and released 30 years later. Music in the film was scored by David Crosby and Graham Nash. New Gladiators (1973) is a film in the tradition of surfing's Endless Summer, where a group of the top karate fighters from the USA travel the country and globe in search of the perfect tournament and the best opponents. New Gladiators (1973) features Ed Parker, Benny Urquidez, Roy Kurban, John Natividad, Steve (Sanders) Muhammad, Emil Farkas, Ron Marchini, England's Ticky Donovan, Belgium's Geert Lemmens and many, many more fighting stars of the Golden Era of Karate in America in the mid 1970's.
History General of Sports Karate Summit at the John Natividad Living Legends Celebrity Roast – Twenty year Anniversary 1999-2019
Admission to the Summit is by donation to the Sport Karate Museum
Sport Karate Museum Archives
10:00am Mark Shuey: CaneMasters
10:30am James Woodson: Sport Karate Museum
11:00am Karen Eden Herdman: Power of Ladies in the Martial Arts
11:30am Robin Shockley: Professional Maximizers around the world
12:00pm William V Aguiar: BDFS Original Beginnings
12:45pm Linda Pugliese: Lady Karate Champions
1:30pm Lawrence Arthur: Business of Karate
2:00pm George Minshew: The Most Motivating Man I Have Ever Met
2:30pm Jim Butcher: Banking and Karate
3:00pm Chuck Merriman: Coaching the Trans World Oil Karate Team
3:30pm Tom Schlesinger: Judging the Right Way
4:00pm Lorenzo Sandoval: Kids in Karate
4:30pm Colonel Phil Torres (Retired): Be the Best You Can Be
5:00pm Professor Jerry Smith: Beginnings with World Champion Joe Lewis R.I.P
5:30pm Adam James: Ending with Final Results and Being Positive When You Publish
6:00pm – 9:00pm Autograph Swap with pictures and Posters
All of the individuals above will participate in the Autograph Swap along with the following: Ron Marchini, Patrick McCarthy, Emil Farkas, Roy Kurban, Butch Togisala, Michele Krasnoo Lax, Jim Butin, Benny Urquidez, Garett Lee, Jennifer Branch, David Brock, Kenn Firestone, Jerry Piddington, John Natividad, Paul Ortino, Lonnie Walker, Jon Conway, Fred Cabano Buck, Michael Armstrong, Johnny Elvis Foster, Johnny Gyro, Leonard Wayne, Leonard Creer, Cindy Peterson Herrera, Kenneth Nolan Herrera, Dean "Flem" Evans, Bernie Pops Krasnoo, Jamie Cashion, Kim Kahana Sr., Jamie Krasnoo, K.C Jones, Ace Ashcraft, Karen Greene, Billy Smith, Joe Hirogo, Jerome Titshaw, Chip Youngblood, Rick Stanford, Barbie Dickinson, Warren Godspeed, Eric Lee, Bob "Animal" Mitchell, Bernie W. Fleeman, Jason Brooks, Rob Mancini, A.J. Perry,  Rambling Cousin Eddie Opinion of a Martial Art Fan Facebook/ YouTube Celebrity
Plus Special Surprise Guest!
Their will be a $10.00 donation to the Sport Karate Museum for each poster or photo autograph for each karate celebrity.
The John Natividad Living Legends Celebrity Roast and all this weekends activity will be filmed for a full documentary about the history of  Sport Karate.